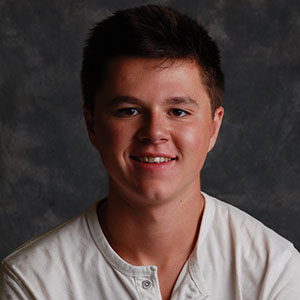 Charlie is a Senior at RB and this is his second year as a part of the Clarion staff. Being very interested in the field of writing and interviews, Charlie couldn't be more excited to see what this year will have to offer in Clarion. While he isn't writing for the Clarion, in his spare time he additionally writes for the Chicago Tribune's teen publication "the Mash", which is distributed once a month to schools all throughout the Chicagoland area.
As for extracurriculars, Charlie is involved in Best Buddies, AST (Association of Students for Tolerance), and the baseball program. Although he decided not to tryout for the team last year, he opted to help Noah Wiza manage the Sophomore team and couldn't have been happier to have made that decision and will continue to manage in the Spring. This senior year has a lot to offer Charlie and he is ultimately excited to simply soak it all in and take advantage of all the great things he can before college rolls around next Fall. As for college plans he is currently undecided but wishes to stay in the area, possibly at UIC or Columbia.
Charlie Connelly can be contacted at
[email protected]
.
Charlie Connelly, Staff Reporter
May 19, 2015

Seniors (and a sponsor) say goodbye

(Story)

Dec 09, 2014

VIDEO: Winter Dance Concert highlights

(Story/Media)

Dec 08, 2014

Return of RB's clubs sign of changing financial times

(Story/Media)

Nov 18, 2014

TOP 5: Thanksgiving Flicks

(Story)

Oct 31, 2014

They Walked These Halls: Top Gun to Teacher

(Story)

Oct 14, 2014

Secret Lives of Teachers: Running for their lives

(Story)

Oct 08, 2014

They're going to Disney World

(Media)

Oct 06, 2014

VIDEO: Cowell solos her way to talent show victory

(Story/Media)

Sep 24, 2014

Ketchmark has an international magic touch

(Story)

Sep 16, 2014

Czajka calls for Girls Who Code

(Story)

Aug 29, 2014

Little Puppettes dazzle at Dog Days

(Story/Media)

Mar 22, 2013

How Daniele's dreams changed me too

(Story/Media)

May 20, 2013

"Gatsby" truthfully not that "Great"

(Story)

May 06, 2013

COLUMN: The life changing experience of the 2013 Boston Marathon

(Story)

Apr 25, 2013

"42" was truly as large as the legend himself.

(Story)

Apr 22, 2013

In Memoriam: Roger Ebert (1942-2013)

(Story)

Apr 16, 2013

RBEF grants still available, deadline April 26

(Media)

Apr 08, 2013

Opening Day has us thinking Top Five Baseball Movies

(Story)

Apr 04, 2013

It's no trick; don't waste $ on "The Incredible Burt Wonderstone"

(Story)

Mar 14, 2013

"Oz" is great, but not quite powerful enough

(Story)

Mar 05, 2013

Behind the scenes look at Telethon reveals Prokes' dedication

(Story/Media)

Feb 15, 2013

Who will take home Oscars at the 85th Academy Awards?

(Story)

Feb 08, 2013

"Django" is unchained, both the stars and the violence

(Story)

Feb 01, 2013

COLUMN: Why are only fine arts required for graduation?

(Media)

Feb 01, 2013

This February 1, revisit the classic Groundhog Day

(Story)

Jan 24, 2013

You are going to want to hear the people sing in "Les Mis"

(Story)

Jan 22, 2013

With award season beginning, Jack Reacher definitely NOT a "must see"

(Story)

Jan 16, 2013

Silver Linings Playbook is Oscar-bound and worthy of it

(Story)

Jan 15, 2013

How I came to wear a different hat

(Story)

Dec 22, 2012

Shenanigans' winter performance rocked our socks

(Story/Media)

Dec 12, 2012

EVERY STUDENT HAS A STORY: Dominic Gabino

(Story)

Dec 03, 2012

It's still a Wonderful Life, 66 years later

(Story)

Nov 16, 2012

New to improv, Dignan heads Shenanigans to first show

(Story)

Nov 16, 2012

In Skyfall, Bond truly stands the test of time

(Story)

Nov 05, 2012

Movie Rewind: Hurricane Sandy recalls "The Perfect Storm"

(Story)

Oct 22, 2012

Argo: The declassified story revealed at last.

(Story)

Oct 19, 2012

First episode disappoints, but "It's Always Sunny" has a history of being funny

(Story)

Oct 24, 2012

CONTINUING REPORT: Class Size – Sardines or students?

(Media)

Oct 16, 2012

EVERY STUDENT HAS A STORY: Ashley Ferguson

(Story)

Sep 28, 2012

Eastwood, Adams, and Timberlake make Trouble with the Curve a home run

(Story)

Sep 26, 2012

Lose a Gehl, gain a Farlee and a Marelli

(Story)

Sep 14, 2012

The Words conjures a trio of love stories

(Story)

Sep 07, 2012

Lawless remakes the Western genre

(Story)