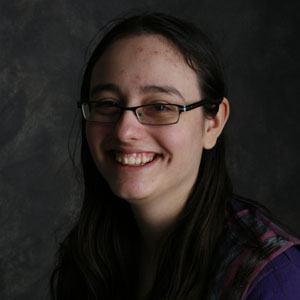 Kate Alaks is actually from the 60's. As a child, she fell through a wormhole in time and space and ended up in the 21st century. As such, she is not very good with 21
st
century technology. She also frequently obsesses about the Beatles, Doctor Who (she really likes both the old series and the new series), Star Trek, Godzilla, and numerous other things with origins in or near the sixties. Even though, happily, most of these have been revived to some extent in today's culture, she still misses the cheesy special effects of the good old days. On the plus side, she got to grow up with Blue's Clues and the Magic School Bus.
While waiting for the Doctor to come and straighten out her timeline, Kate (aka Kadet Marshmallow) is now a senior, and is reprising her role as
Clarion's
Opinion Editor. She is planning to continue her Freakonomics-style column, For What It's Worth. Besides 
Clarion
, Kate is in Eco Club, GSA, and NHS, and is a black belt in TaeKwon-Do. She spends her precious free time compulsively writing, watching Star Trek, quoting things randomly, and stressing out about applying for colleges.
You can email Kate at
[email protected]
Kate Alaks, Opinion Editor
May 22, 2014

Say goodbye to the Clarion seniors

(Story)

May 22, 2014

For What It's Worth: The End

(Story/Media)

Apr 25, 2014

For What It's Worth: Public libraries worth the cost

(Story)

Apr 03, 2014

Editors' Roundtable: Illinois Concealed Carry

(Story/Media)

Mar 14, 2014

One-to-one is on its way

(Story/Media)

Feb 17, 2014

For What It's Worth: Fighting the feed

(Story)

Feb 03, 2014

Turn off the tedious televisions

(Story/Media)

Jan 10, 2014

The classroom is flipped, but I'm still learning

(Story/Media)

Nov 25, 2013

ACE: A cool presentation for a cooler climate

(Story/Media)

Nov 19, 2013

For What It's Worth: Online economics of Internet Safety

(Story)

Oct 31, 2013

For What It's Worth: Points and motivation

(Story/Media)

Sep 25, 2013

For What It's Worth: The economic irony of banned books

(Story)

Sep 20, 2013

Life in a teenage rock band

(Story/Media)

Sep 03, 2013

For What It's Worth: Why college mail doesn't stink

(Story)

May 16, 2013

For What It's Worth: The economics of procrastination

(Story)

Apr 17, 2013

Senior students share what they "wish they had known"

(Story)

Mar 13, 2013

For What It's Worth: Chocolate Edition

(Story/Media)

Mar 05, 2013

COLUMN: Board, don't give up on RB's Green Goal

(Story)

Feb 26, 2013

For What It's Worth: The economics behind NHS

(Story)

Feb 04, 2013

For What It's Worth: The economics of school lunch lines

(Story/Media)

Dec 05, 2012
Nov 19, 2012

Don't make us choose between being good students and good citizens

(Story)

Oct 31, 2012

Kate tells you how to conquer NaNoWriMo

(Story)

Sep 10, 2012

Big classes? No big deal.

(Story/Media)

May 17, 2012

SLIDESHOW: Students, teachers plant RB community garden

(Story/Media)

Apr 23, 2012

The Lorax speaks for the trees

(Story)

Apr 13, 2012

Health class could be even healthier

(Story/Media)

Apr 05, 2012

EVERY STUDENT HAS A STORY: Nichole Cleveland

(Story/Media)

Apr 04, 2012

APRIL FOOLS: Class sizes too big? Double up the desks!

(Story/Media)

Mar 16, 2012

Yearbook sponsor Lopez, Fine Arts Department Chair Gehl among 16 teachers facing RIFs

(Media)

Mar 07, 2012

From #49 to #3: RB near the head of the line to receive $9 million

(Story)

Feb 13, 2012

Feed fed to freshmen

(Story/Media)

Jan 17, 2012

How can I register when I haven't even finished a semester?

(Story)

Jan 12, 2012

Carey's Comix #4: Where's the snow?!

(Story)

Dec 19, 2011

APES students care for school of trout

(Story/Media)

Dec 09, 2011

What was better? A Month of Service or a Day?

(Story)

Nov 16, 2011

Students make their own "slow" fast food

(Story)

Nov 07, 2011

"Kirby's Return to Dreamland" is a dream to play

(Story)

Oct 27, 2011

Last year's Bulldogs are Food Heroes

(Story)

Oct 06, 2011

Interactive Guide: Halloween

(Story)

Sep 26, 2011

Bad plan for planners?

(Story)

Sep 14, 2011

Are class rings worth it?

(Media)