NCAA Football 12: Game of the Year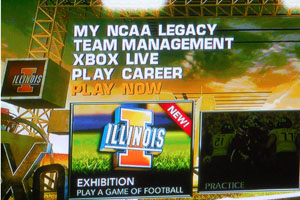 Often playing second fiddle to the Madden Series, it's about time that the NCAA Football Franchise gets the respect it deserves. The company puts out a great game every year and often has new features that makes the game that much more fun to play. The Madden series is always a good game, but it does not match up with the quality of NCAA Football 12. 
Mark Ingram, a former All-American and Heisman Trophy winner at the University of Alabama, was named as the cover athlete, and was drafted by the New Orleans Saints in the 1st round of last spring's NFL Draft.
What's not commonly known is that the cover athlete of the NCAA Football games is never a player that is available in the game itself. The creators of the game choose a player, often times the Heisman winner, that has already been drafted into the NFL because the game is made months in advance.
EA Sports, the company that puts out the game every year, decided to bring back one of the most popular features in the series; Road to Glory. In this game mode, you are able to create a player and edit him anyway you want, whether you want him to be a 6'5" wide receiver, or a 5'7" offensive lineman. The possibilities are endless. The fun part is that you are not able to edit any of the attributes. So no, to all you cheaters out there, you cannot make the players speed and catching both 99's. You are not allowed to edit any of the player's attributes.
After you're doing editing your player, your career starts as a high school senior, beginning with the state playoffs. From here, you play roughly 4-5 games, as long as you win, and try to play as good as possible to try and impress college scouts and earn a scholarship to some of the top programs in the country. Once you sign with a school, everything is up to you. You fight to get a starting job, and then perform on the field to keep it, all en route to the Heisman trophy.
What makes college football better in real life and in the game, are the authentic gameday traditions that make every University experience unique. For example, when playing as Florida State, as the Seminoles take the field, the gamer is able to experience a real treat.
You are able to watch Chief Osceola ride his horse to midfield and plant a spear in the ground, a tradition that dates back to 1977. Some other cool traditions include the Notre Dame players touching the "Play like a Champion Today" sign, Tommy Trojan from USC, and Boomer Sooner riding out of the tunnel at the University of Oklahoma.
My favorite feature, Dynasty mode, is by far my favorite, and for good reason. It hasn't really changed much in the past few years, but to me, that's ok. The gameplay is fantastic, and the recruiting process continues to get more detailed. I find it fun to recruit players from high school, and watch them progress throughout their career; maybe you do too.
Many people are a fan of playing games online against other gamers, which is completely ok, but I guess I've never really been a huge fan of it. I've always loved playing Dynasty mode, and I recommend you give it a shot.
There are a few negatives to this game, though minor, they can impact the game in a big way. When running with the ball on offense or special teams, if the player you are controlling a player who's speed rating is 95 or above, it is often very unrealistic. These players are able to make cuts or perform spin moves that are, well, impossible. It probably sounds silly, but it's true.
Another negative within the game is the extreme amount of injuries that happen over the course of a game. If you run the ball a lot, especially with your quarterback, you can count on at least 5-6 injuries throughout the course of the game. You might say, well, its football, injuries happen. I understand that completely, but the injuries in this game are a bit extreme. It seems like my running back has a "bruised shoulder" every other play, but don't worry, he'll "return soon".
All in all, this was one of the best video games I've ever played. If they could fix those small problems, this game would be perfect.
Rating: 9.5 out of 10.