The Office Countdown: Schrute's ill-advised pilot attempt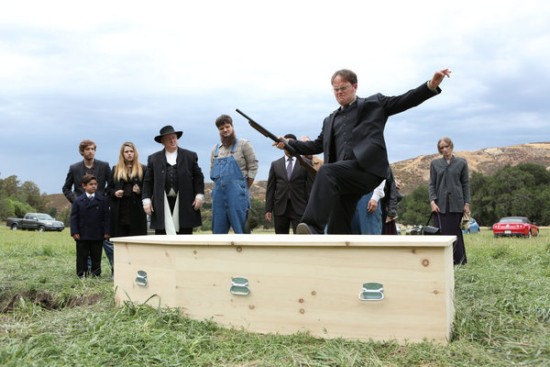 The latest episode of The Office was entitled 'The Farm' and was originally supposed  be a pilot episode for  a spin off series focusing on Dwight Schrute (Rainn Wilson).
After watching the episode and taking the weekend to let it all sink in, I have one thing to say. I can see why the pilot didn't get picked up for a full series, and I'm happy that it didn't.
Don't get me wrong, I really do not want The Office to end. I could honestly watch it for the rest of my life. However, I understand that it's time for the show to end and for the actors to go on to bigger and better things.
All of that being said, I would be disappointed with this as a follow up for Rainn Wilson and the producers of the original series.
The episode itself was not funny; the only parts I enjoyed were the ones back at the office with all of the main cast. I did not find the bizarre funeral for Dwight's Aunt Shirley entertaining; in fact, it was almost offensive when the 'joke' was made that it's Schrute family tradition to shoot the deceased while they are in their casket to 'make sure they are really dead.' When the joke was followed with Dwight doing exactly that and my jaw almost dropped to the floor. The writer of the episode, Paul Lieberstein (Toby Flenderson) , certainly has a better taste in humor than that. Throughout all of the nine seasons of the show, they have never made a joke that dark and disturbing.
Back at the office Todd Packer came back for the first time since season 7 to 'make amends' with everyone he had wronged there. This was hilarious and Packer is probably one of my favorite recurring characters on the show.
Something that disappointed me was that the Jim and Pam storyline was not developed any further.
Since the episode wasn't originally written as a part of the series, it's understandable but I was hoping to find out more. Hopefully, when the show returns after yet another hiatus April 4, we'll find out more.
Stay tuned for more reviews! There are only five more episodes (the last two will air for an hour each).