Theory of Everything – Uniting all that is great about everything ever.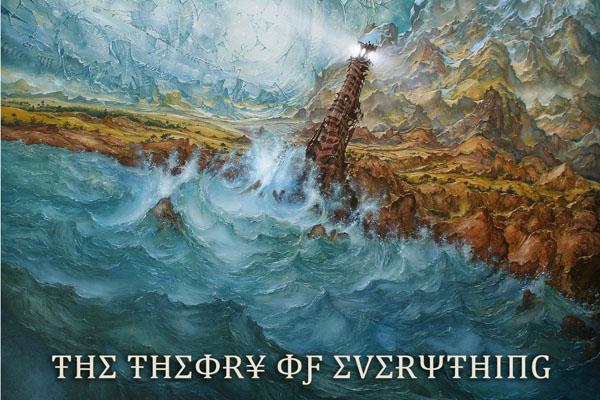 We need a future to build / A new role to fulfill / We've got something to give / We'll find a reason to live!
It's strange;  Arjen A. Lucassen, the frontman of Ayreon, has featured unbelievably incredible singers on his work like Bruce Dickinson (Iron Maiden), Russell Allen (Symphony X), Daniel Gildenlow (Pain of Salvation), Mikael Akerfeldt (Opeth), Phideaux Xavier (Phideaux), Simone Simons (Epica), Neal Morse (Spock's Beard), Devin Townsend (from that one band), Jorn Lande (Masterplan), and the list goes on – but Ayreon is a band you'll never discover. Seriously, it seems to be barely known by anyone ever. I've only ever found two people who knew about it without me showing them. I still only barely found them in the depths of youtube while perusing the internet – "Liquid Eternity", off of 01011001, was the first Ayreon song I've ever heard, and it remains to this day my favorite. As I broadened my reach in this band and heard what else it has to offer, I was thoroughly impressed. Then, Theory of Everything rolled around, so I preordered the CD. It arrived, and upon finishing it, I was blown away.
Like, really. Blown Away. REALLY blown away. As in jaw on the floor. As in an explosion of awesome from the computer. As in fly-out-of-the-seat-backwards-and-sail-through-the-wall-behind-me. Blown away by all the gut-busting keyboard solos and face-melting guitar shredding. Blown away by the unforgettable performances of singers from around the globe.
I think, with that, it's safe to assume that you should listen to Ayreon right now.
Are you trying to drive me away? / Just when I need you most. / I think… I've got something to give / I just don't know… how…
So. What is Ayreon? My friend Nick labels it as Science Metal due to an Internet post he saw. Arjen himself labels it as Space Metal. I explain it to my friends who are unfamiliar with the concept of Space Metal as Progressive Electronic Folk Metal, which isn't much clearer. No matter what you call it, there's one undeniable fact – It's a metal opera. Not opera as in the style of Therion or Aesma Daeva, but a metal opera with complex characters and a bloody awesome story. All of the Ayreon albums thus far have been such (excluding Actual Fantasy, technically), each with their own awesome stories, but get this – they all were connected. Yeah. The Human Equation was connected to The Universal Migrator in the same way it was connected to Into The Electric Castle and  all three were connected to 01011001. How freaking cool is that?! One great big overarching story connecting five respective albums to make one huge opera of metal. How's that for creative thinking? I can't tell you how much I got caught up in the awesome stories in the albums, and it was no different here.
No, you won't deceive me / You're nothing but a fake / You're a sad pretender / A total waste of space
Okay, enough back-story about Ayreon. The Theory of Everything is formatted differently than the rest, but it never loses any of its pizzazz. This album has 42 songs in it, which sure sounds like a lot, but bear with me – it actually consists of four 20+ minute tracks, each of which are separated into 9-11 individual parts. These sections can range from 25 seconds to 3.5 minutes, each with their own little contribution to the plot, whether.
That brings us to the story of The Theory of Everything. Over and done with is the Forever Story, and so begins the story of The Prodigy. Quite an incredible story, regardless of its slightly less sci-fi-ness of its predecessors. The prodigy is searching for the Theory of Everything, a mathematical equation to unite everything in the universe, but has a clouded mind, and he finds a way to fix that – but at a cost.
CLIFFHANGER!
So I'm going to leave it there – it really is a spectacular story and I do not want to ruin it at all. Other characters are introduced, like the Rival (sung by Marco Hietala of Nightwish and Tarot), the Teacher (sung by JB from Grand Magus), the Mother (sung by Christina Scabbia of Lacuna Coil), and more. The story is brilliant, but the singers really bring it to life.
Tommy Karevik (Seventh Wonder / Kamelot, sings the Prodigy) does such a fantastic job, hitting all the high and low notes perfectly, I could've sworn I was there. JB has such a perfect voice for the Teacher's role – a soothing voice, a nice baritone timbre; it's simply so filled with wisdom and care. Marco Hietala shines as always and captures the Rivals frustration perfectly with vibrato-thick pitches on songs like "Collision" and "The Rival's Dilemma". Christina Scabbia (strangely enough, I'm not exactly the hugest fan of Lacuna Coil, apart from a few killer songs) plays a great Mother, and has a powerful voice no matter how you approach it. Sara Squadrani (from Ancient Bards, and she sings as the Girl) has a great voice that's distinct enough from Christina's to make it stand out, and kills it. John Wetton (ex-King Crimson, sings the Psychiatrist) has a voice not unlike JB; quite soothing and calm, with an air of knowledge and intrigue. Above everything else, though, I think that Michael Mills (The Father, from the band Toe hider) had the best performance – he has such a great voice. Really. He can sing wayyy up there way past the range of Arno Menses of Subsignal and can also pull off lower notes like on the song "The Visitation". Whenever I heard his voice come up, I immediately perked up and rocked out to it.
Can you help us reach our son / Can we put our faith in you / Can you help him overcome / There is brilliance shining through
Behind all the singing, though, is a collection of keyboards and guitars and even more keyboards. Honestly, this album is so unbelievably keyboard heavy, and that is not at all a bad thing. Some of the coolest riffs on the planet come off of the keyboards in songs like "Side Effects", "Collision", "Theory of Everything Pt 2", "Alive", and just about everything else. The actual music here is at just a high quality as that of the singing, and it's also really diverse. There are some nice, smooth guitars on songs like "Side Effects", smashing riffs on "Theory of Everything Pt. 3" and "Quantum Chaos",  and then all sorts of guitar tricks throughout the rest of the album.  Arjen has brought together some great talent like Rick Wakemen, Keith Emerson (from Emerson, Lake, and Palmer) Jordan Rudess, and Troy Donockley. There was never the sweeping guitar shredding like in "Dawn of a Million Souls" off of Universal Migrator, but it doesn't take away from the experience itself. Theory of Everything is very narrative driven and a Van Halen-esque solo wouldn't have exactly fit very well, and the rest of the music is more than good enough to make up for it.
Theory of Everything is long. It's about an hour and half in total length, but frankly, it seemed all too short. In that time, there were very few flaws, but there was one big one that I didn't like – The Rival's character was never fully finished. He just sort of up and disappeared without ever achieving the goals he wanted, and very little closure was offered. I'm passionately hoping that he will show up in later albums progressing the story, but we'll have to see.
Listen to this right now. Whether you pirate it, buy it off iTunes, buy the CD, Youtube it, or anything, just listen to it. I have shown Ayreon to countless people and not one of them didn't like it.
You will not be disappointed.
Trust me.