Wrestlers appear in State tournament
Giurini and Ochoa represent RB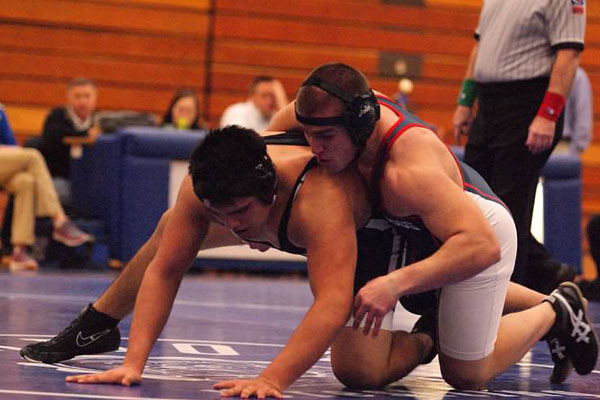 Beginning Thursday, February 18, 113 pound Nick Giurini and 132 pound Antonio Ochoa left their familiar wrestling room to go to Champaign, Illinois.  They are among the best 16 wrestler's of their respective weight classes in the state.
Both wrestlers have been training long and hard since the summer for this tournament.  They've endured exhausting practices, endless sprints, and tough workouts to come this far in the season.  But no amount of training or preparation can prepare them for competing at an elite level of wrestling except for wrestling other guys better than them.
New Head Coach Michael Boyd has been teaching all of his wrestlers a winning philosophy.  That everyone has to go into a match or a tournament expecting to win.  Giurini and Ochoa have bought into Coach Boyd's philosophy and wrestling style.  Ochoa says that he owes his success to his coaches for making him and the team better overall.
Unfortunately Ochoa nor Giurini placed at state.  They both wrestled tough first matches and ended up getting knocked out of the tournament but that won't stop them from coming back next year.
All RB wrestler's are expected to get anywhere from 50 to 100 matches over the summer so next season instead of having five wrestlers with over 20 wins, we'll have five wrestlers with 30 plus wins and nine wrestlers with 20 plus wins.  Antonio and Giurini are optimistic for next season and expect to have a number of wrestlers not just qualify for state but place as well.
RB wrestlers plan on coming back next season with only one thing on their mind, the first place state medal.