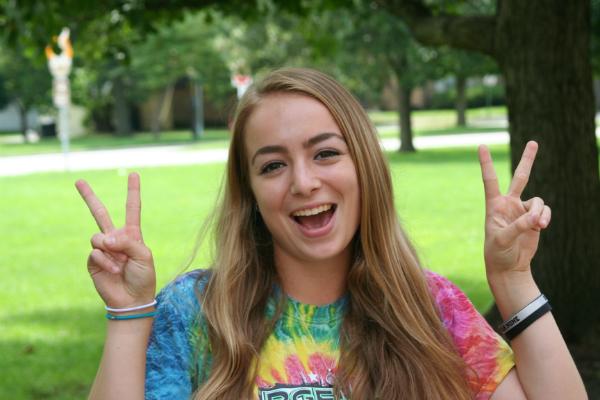 Lauren Lambros is not only a Freshman at RB, but the President of the United States. As soon as the last bell rings, it's off to the White House for Lambros; the country cannot run itself. When Congress has a predicament at one o'clock, it has to wait because that is when Lambros is in English. Making her day swamped with Bills, and Amendements. To relax, she listens to a variety of heavy-metal bands such as AC DC, Metallica, and Led Zeppelin.
"AC DC's Thunderstruck just takes all of the stress off of my shoulders. It could just put me to sleep," said Lambros. "Being stress-free is the only way a country can be run, so successfully I might add."
As well as being on Clarion, Lambros participates in Student Association, Basketball, and Softball. In her free time she spends time with her family and friends. 
If you need to contact her for any reason please use this email: [email protected]
Lauren Lambros, Story Editor
Feb 23, 2018

In the spotlight: AP Studio Art

(Story)

Mar 06, 2017

Community members show support for RBHS teacher at board meeting

(Media)

Jan 31, 2017

Another one for the book: RBHS Rouser wins award

(Story/Media)

Nov 22, 2016

Pride and positivity sweeps through halls of RB

(Story)

Oct 19, 2016

The reality of concussions

(Story)

Sep 27, 2016

RBHS renovations update

(Story)

Apr 27, 2016

RB smashes into the badminton season

(Story)

Apr 08, 2016

RBHS Talks Politics

(Story/Media)

Mar 14, 2016

Scholastic bowl stirring up a buzz

(Story)

Mar 13, 2016

A walk in the PARCC

(Story/Media)

Mar 04, 2016

RBEA and Board of Education continue negotiations

(Story)

Feb 29, 2016
Feb 19, 2016

Painting a new canvas

(Story)

Feb 16, 2016

Boys wrestling pinning down the wins

(Story)

Feb 16, 2016

"Hoop, there it is!" Seasons bouncing RB's way

(Media)

Dec 29, 2015

Illinois' first ever female wrestling team

(Story)

Dec 28, 2015

Boys' wrestling: in relentless pursuit

(Story)

Dec 25, 2015

Alley oop to the hoop

(Media)

Dec 24, 2015

Diving into the season

(Story/Media)

Dec 01, 2015

Spinning up news with Talknado

(Story)

Nov 23, 2015

Every Student Has a Story: Dancing through Life

(Story)

Nov 10, 2015

Girls volleyball; serving up a great season

(Story)

Oct 27, 2015

Tennis Season Update

(Story)

Oct 27, 2015

Just keep swimming

(Media)

Oct 01, 2015

Casting into the year

(Story)

Sep 17, 2015

Football field construction; the view from the other side of the court

(Story/Media)