Slater signs with St. Joseph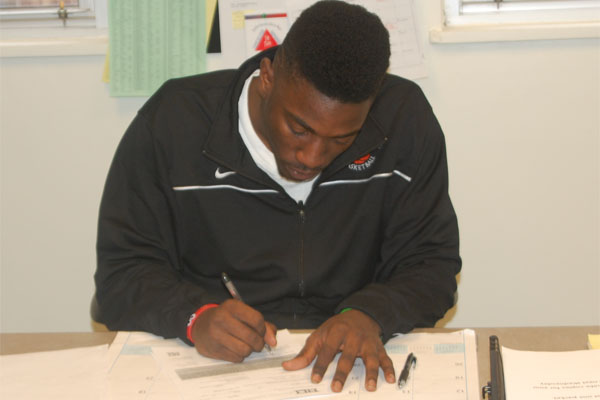 For the athletic department and RB itself, one of its own had worked hard and achieved what few in high school sports strive to get. RB's Watoris Slater has worked hard for the past four years to become a colligate athlete. He has earned the right to say that he has a full ride to play football at St. Joesph in Indiana.
"It's a great experience, that I get to have the opportunity to get to go to college for free. I appreciate it and I worked very hard to get to this point," Slater said.
Slater didn't really think that he was going to play football in college; he thought that he would be going to college to play basketball. He has played basketball since he was a little kid, and still is. Slater is a three sport athlete here at RB, playing football, basketball, and baseball.
He didn't start playing football till his sophomore year here at RB. Once he got onto the football field, everyone knew that he could contribute to the team in many ways. He returned kick-offs and played receiver till his senior year.
During his senior year, he played both ways. He started this season at wide receiver and defensive end.  Slater has a rare combination of tremendous speed and athleticism. He has the ability to catch a two yard pass and turn it into a 80 yard touchdown or run by a offensive tackle and get a sack. His skills play a big role in every sport especially his top of the line speed.
When he gets to St. Joseph, he won't be catching passes anymore; he will be trying to intercept and deflect passes. He is going to play free safety in college.
On October 22, Slater wore royal blue and white for the last time. Come August, Slater will be representing new colors for a new school.