No one FIGHTS alone!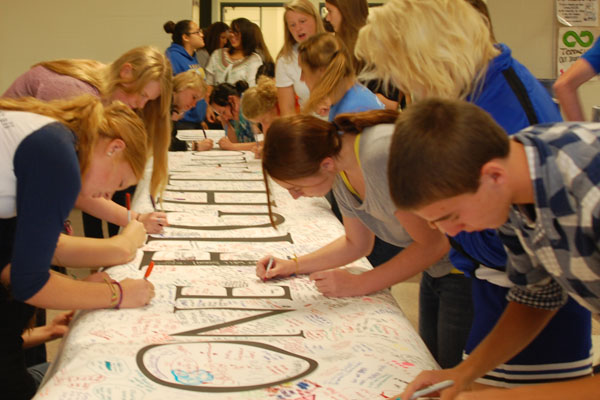 Evan St. Paul, a 14 year old SE Gross student, was diagnosed with brain cancer this summer.
The fundraiser for Evan is on October 1st from 12 to dusk. The people that came up with the idea for the fundraiser were Kris Murphy, Becky Davis, Amy Weinert, Denise Armenta, Mike Garvey, Laura Tracey, Julie Sickle, Tracey Patton, and several other supportive community members. The fundraiser is at Kiwanis Park.  
"Please come everyone, it's going to be great!" said Weinert.
There are seven core committee members, twelve committee chair men, and there is also over 100 volunteers for each committee. "Our goal is to provide some relief to the St. Paul family on a medical expense they incur," said Murphy.
Recently, there was a photo event. Volunteer Brian Conroy's company offered a photographer and banner to be presented to Evan telling him "No One FIGHTS Alone!" They had bracelets and t-shirts for sale before the photo shoot. The event was so popular that the bracelets actually ran out.
The support has been overwhelming from the community. The St. Paul family has been receiving donations continuously. But sadly, the dollar amount will never be enough for what the family is facing. As of right now, nobody knows if there are going to be more fundraiser or events after October 1st. People can help the family with prayers, monetary support, and by going to the fundraiser on October 1st.
There are several things that are going to be at the fundraiser. Events include a live auction, silent auction, wiffleball tournament, volleyball tournament, bean bag tournament; face painting, keys for a cause, lucky lollipops, raffle, food, drink, and live entertainment.
Any monetary donations can be sent to the Exceptionally Evan foundation, the C/O First National Bank of Brookfield 9136 Washington Ave Brookfield, IL. For anyone volunteering to help with the fundraiser, e-mails can be sent to [email protected].