Familiar face Obradovic in new role as Fine Arts DC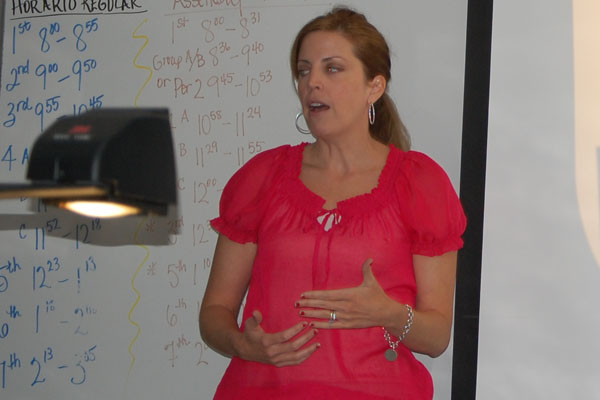 CORRECTION:
This story has been corrected to reflect that Diane Marelli has not announced her retirement. – D. Mancoff
Even though RB has a new Fine Arts Department Chair, Julie Obradovic is a familiar face.  Obradovic, who teaches Spanish 1 and 2 and chairs the Fine Arts Department, has a long history as a foreign language teacher at RB.
At the moment Obradovic hasn't made major changes to the department and is still getting familiar with how things are run in Fine Arts.
"We're still in the process of making goals," Obradovic said.
Obradvoic is replacing long time music teacher Diane Marelli who chaired the department last year.  Though Obradovic has never exclusively studied fine arts, she feels comfortable with her understanding of its importance.  As a Spanish teacher, Obradovic believes that it is important for her to expose her students to Spanish music, dances, and art.
Most of all, she is simply glad to be back in the halls of RB.
"I was fortunate enough to work at another school [after being released due to budget cuts at RB]," she said, "but I knew it wasn't the place for me and jumped at the opportunity to come back."
Replacing a student favorite like Marelli can be difficult.  One fine arts student who did not wish to be named said, "This will be a good learning experience to see how the department and the chair work together.  It's not often when someone outside of the teachers in a department is elected as the department chair.  Who knows how beneficial it could be?"
As Obradovic gets adjusted to the role, several long-time fine arts students had suggestions for changes they would like to see in the department.