More than just a runner
Mailin Struck's time in America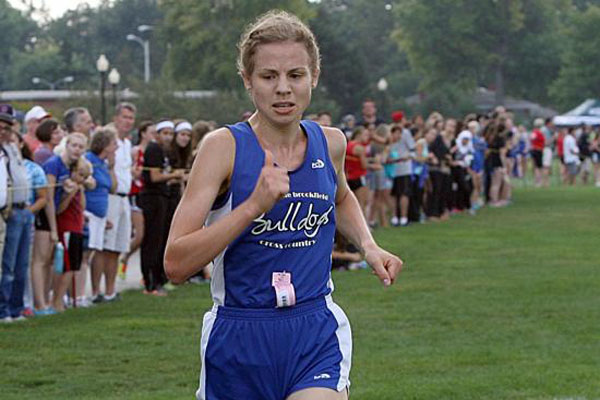 Many people wish to visit a new country and practice the skills and language we have practiced. For most of us that may just be a dream, one that will never come true. However for German exchange student, Mailin Struck, this dream became a reality.
In order to truly have the experience of living in another country, you need to know the language and get used to the everyday vernacular. "I have been studying English since 3rd grade and Latin as well. It is different than the way I learned in school, we learned British words," Struck said. Americans have a different way of speaking than the British, according to Mailin. This made it difficult at first to adapt to the everyday life.
Like most people, Struck was nervous for her first day of high school. Unlike most people, she was going to high school in a foreign country. "I was nervous I would not understand everything everyone was saying, and in some cases, I did not understand much," she said.
Mailin was interested to see the clique aspect and what an American high school looks like. It is very different from Germany, where separate campuses are more common. It has both pros and cons for Struck.
Culturally, Germany and America are quite different. Everything here in America is bigger, the food portions, cars, people as well. That is the stereotype a fair amount of Germans have on Americans, the obese consumer. Struck has realized that this is not always the case. "We walk and use our bikes or public transportation primarily. Not as many people own cars back home," she said.
The food is healthier; the bread especially is very different here. There is more white bread versus whole grains, according to Struck. "The first thing I will do when I get home is eat a German meal," she said. Because of the time of year, Mailin has eaten corn on the cob and pumpkin pie, which is the best food she has eaten here. Initially Struck, wanted to go to New Zealand, but it cost more money. England was too close to home, and it was important to go to an English speaking country. That being said, America fit the bill quite nicely.
One thing that is not different from Germany is the fact that Mailin is a very fast runner in her age group. She is basically the fastest runner in her area back at home as well as here in Illinois. This was clearly shown by winning 1st in state, which has been her favorite memory of America so far. Also getting to know the girls cross country team and bonding with them has been a good experience for Struck and has helped her feel more at home.
It is never easy to assimilate to a new culture, and speaking their language and adapting to a different way of life, but Mailin Struck has done a good job of fitting in a very different environment than her home.