Secret Lives of Teachers: Adam Gibbons
Cataloging the early history of Geneva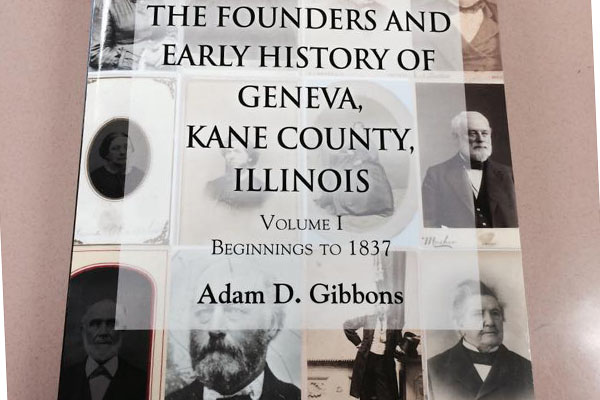 When students think about teachers' personal lives, we are often under the impression that they just grade, maybe watch TV, and sleep, but they also have lives outside of the classroom.  What are they up to when they aren't teaching us?  In the first of a continuing series, Clarion interviewed Social Studies teacher Adam Gibbons.
Gibbons teaches Western Civilization, AP European Studies, and AP US History here at RB, and his classes are known for their high level of rigor.
This love of history continues outside of school as well.
Gibbons has also been described as a huge history buff, so much so that he has invested three and a half years putting together a book with a focus on the first families that settled in Geneva, Illinois.  The book is titled The Founders and Early History of Geneva, Kane County, Illinois. The book will be in the RB and the Northwestern University libraries (where Gibbons is an alumnus), eventually a few local Barnes and Nobles, directly from the author himself, and, hopefully the Library of Congress.
Writing this book has been a huge accomplishment for Gibbons. He has invested 500+ hours into it. Balancing two young kids, ages seven and four, and supporting a wife who is starting a new photography business on top of this book hasn't been easy. The process has been so time consuming, that he's had to stay up late, and find time on family vacations for the book.
It's been worth it though.
"It was rewarding to see it physically on the shelf. I finished the book in June, and it was in print the beginning of August," said Gibbons.
Along with the satisfaction of actually creating a book, that's all of his own writing, Gibbons has realized that it's helped fine tune his research skills and having more information to offer his students.
Gibbons also has a lot of pride in the index of his book – where all of his sources are cited. The index is thirty pages long, and covers all of the people he interviewed, and all the illustrations and quotes he used.
"I think it's going to be a good reference for those interested in genealogy or local history. I encourage those with family in Kane county or DuPage county to purchase a copy," Gibbons said about his book. The book entails the travels of the first ever families that came to Geneva, Illinois – the author's current town.
The inspiration behind the book stems from two things: one being that Mr. Gibbons used to work in a publishing company, fact checking and researching, so he's had a previous connection with books. The second sourcing back to a group he was in, the 'Geneva Historical Association'. The group discussed historical properties of Geneva, and the people that lived there. This made Gibbons think that it would be worthwhile to write this book.
"There hasn't been a good history [about Geneva] written since the seventies," Gibbons said as another reason he wrote the book.
Writing a book is agreeably not an easy task, and there were apparent highs and lows involved in the process. For example, one of the more difficult things to overcome was the publisher. Gibbons had a choice of two, and was ultimately displeased with the one he opted for.
"The publishing process was frustrating at times, especially with the publisher I went with. I had a choice of two and went with one instead of the other, but perhaps if I were to do it again, I would choose the other because they didn't often do the changes I expected, and I had to make them myself, and they liked to work through email only, so you couldn't always pick up a phone and talk through your problems with somebody," he said.
On the other hand, Gibbons stated that he thoroughly enjoyed the research aspect of the project – talking to families, visiting historic sites in Geneva, and finding out things he wouldn't have expected. Some of these things include interesting patterns the settlers traveled in, and relationships to famous figures.
Mr. Gibbons is somebody that finds ways to incorporate history in multiple ways. His family had a birthday party for his house's 175 birthday last year, because it's one of the oldest in the neighborhood. Aside from work, Mr. Gibbons enjoys taking his kids to casual places like museums, parks, and the movies.
This book is volume one of two. The second will be a similar focus, but will concentrate on the families that settled in Geneva until 1848, that he's towards the end of writing.
Many teachers at RB have more going on than meets the eye.