RB Boutique to be hosted at Hollywood House, March 21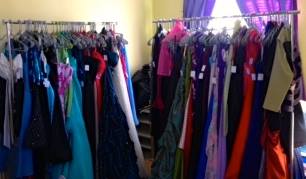 Has prom been on your mind recently? Afraid you won't find the "perfect dress" you've been picturing yourself in? No need to worry! The RBHS PTO (the parent teacher organization) has been working hard for this exact reason!
Saturday, March 21,  the "pop-up" RB Boutique will be selling long and short prom dresses at an incredibly low cost. They will also be selling shoes, purses, and jewelry.  It's not just prom dresses that are available; homecoming and other special event dresses will also be sold.
As of right now, 250 dress and over 50 pairs of shoes have been donated, along with lots of great jewelry. With such a wide variety available already and growing daily, students will have a lot to choose from.
The RB Boutique is offering more than just the clothing and jewelry.  Hair and makeup demonstrations for Prom will be offered as well as a raffle that will include a free limo ride.
"Raffle prizes include gift cards from nail salons, Palmer's Place, Red Mango, JC Penny, Riverside Foods, Blueberry Hill and a lot more," PTO President Pam Powers said.
As of a couple days ago, the amount of prizes and raffles have almost doubled! Students will have to come early to  and see all that the RB Boutique has to offer on this spectacular event.
Other vendors will include Jamberry Nails, Stella & Dot, Frill Boutique, and Ade's Organic Beauty. Superior Cleaners is also offering a 20% discount to Superior Cleaners so students will be able to easily dry clean the dress they just bought. A person will also be at the RB Boutique who can help you alter dresses for a perfect fit.
"This is more than just shopping–it's an event with one stop shopping. Get there early to get the best dresses at incredible prices," Powers said.
The RB Boutique is something very original to RB, that has not been done yet. With the creative and helpful minds of parents and community members, this whole event created for the students, has been put together. With dresses at extremely low prices, as well as lots of jewelry, purses, and shoes, the RB Boutique is finally make Prom less expensive and affordable, the way it should be.
The RB Boutique is sponsored by RBHS PTO. To see photos of some of the dresses check out at the RBBoutique Facebook page or through twitter @rbhsboutique.
RB Boutique will be held at the Hollywood House, right next door to RB, on Saturday, March 21 between 11:00 am to 5:00 pm.