Body Positivity; I love the way I look
Hang on for a minute...we're trying to find some more stories you might like.

Hi, my name is Kassandra Ramirez and I love the way I look. That may seem conceited, but I am confident with my appearance and who I am.
For years and years I wanted to change things about me, my thighs, stomach, arms, and anything else I could visually see. As the years passed and the self hatred grew I could not take it; my negative self image affected every aspect of my life.
I was called names and would try to change my body due to the comments. I was told I was "too skinny" and nobody would want to date me.
So I gained weight, but the weight only went to my stomach, then I was told I was "too fat" and "didn't fit into my dress" by other people.
I admit they were little comments, but they stuck with me like super glue. I played sports and was always active, I was perfectly fine and healthy. But the comments people said made me believe I was overweight and ugly.
When I was younger I did not like my skin tone. I thought I was too dark because all my other school mates were lighter than I was. I still do not love my skin, but I do like it and I appreciate my differences.
Two long years later, here I am. I love myself. I see beauty in my flaws and imperfections. I can appreciate how different I look and feel confident in my own body. I do not walk with my head down anymore, I am proud to be me and I don't care who sees. So what if my stomach isn't as flat as a supermodel? I'm healthy and happy.
What really helped was my environment. I stopped talking to toxic friends, and got some new amazing friends that encouraged me and honestly wanted what's best for me. My parents also helped tremendously. They were always there and encouraged healthy eating and never limited meals.
I stopped talking to the people that gave me back handed compliments, in the moment it feels as if their opinion is the only thing that matters, but I can tell you from experience that that is far from the truth. Surround yourself with great people that will support you in everything you do.   
About the Contributor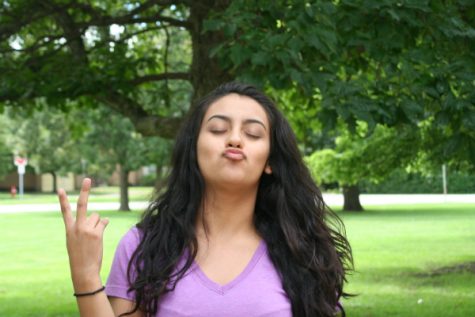 Kassie Ramirez, Staff Reporter
Kassie is sometimes a fun and helpful person... okay, just kidding, she is very rarely those things. She spends most of her day screaming at children about...