RB reacts to National Conventions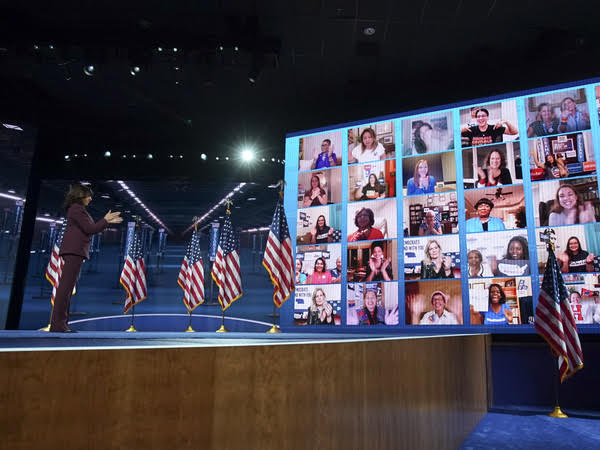 In August, the Democratic and Republican Party hosted their party's convention to nominate their candidate for President of the United States. Both conventions lasted for four days and were held a week from each other (DNC was held August 17 to August 20 while RNC was held August 24 to August 27). At the conventions, each party hosted speakers. These speakers were family members, political allies, common Americans, and even current and former cabinet members (an unprecedented move at the RNC to have a current member).
Former Vice President and Delaware Senator Joseph Biden won his party's nomination after a single ballot. Having had a very contested battle to the nomination, Biden pulled himself to victory following a very strong performance on Super Tuesday. Biden became the presumptive nominee last April after Vermont Senator Bernard Sanders dropped out of the race for his party's nomination. Because of this, the primary was not contested. California Senator Kamala Harris was also nominated as Vice President at the convention after Biden asked her to be on the ticket with him.
A week later, incumbent Republican President Donald Trump was re-nominated as the GOP nominee for the Presidency. President Trump faced off against former Massachusetts Bill Weld and former Illinois Congressman Joe Walsh in the GOP primary however one easily because of strong approval within the party. Incumbent Vice President and former Governor of Indiana Michael Pence was re-nominated for Vice President of the United States.
The DNC, held in Milwaukee, WI, took swings at the incumbent President over his COVID-19 response and blamed him for racial tension and civil unrest in the US. The RNC, held at the White House (another unprecedented move by the RNC), defended President Trump's record as president while attacking the Democrats on various fronts.
One noticeable thing at both conventions was the emphasis on social distancing due to COVID-19. While the DNC practiced social distance guidelines, the RNC could be seen ignoring it, especially when President Trump gave his acceptance speech.
Though it may not be interesting to many students at Riverside Brookfield, those who did watch it believe that they will have an outcome on the election.
"I thought both conventions went well for both parties," said Senior Ben Perry, a Republican, "I think that the RNC will boost polls tremendously (for Trump.)"
On the other side of the aisle, Junior Chris Walden, a Democrat said, "I do find it interesting, some of the tactics used in the conventions. There are several issues both parties have been clashing on like Black Lives Matter, social distancing, border patrol, etc. With how easy it is for it to spread information, I think many more people are going to vote this election."
As for speakers of the conventions, both Perry and Walden agree that their party's speakers were a good pick.
"I think all the speakers in the RNC were good," said Ben Perry," Some were interesting choices, but I think it would have been great for (Representative) Tulsi Gabbard (D-HI) to speak against her party because she didn't speak at the DNC. My favorite was President Trump's speech."
Walden believed that both sides provided good speakers, mentioning former President Barack Obama as his favorite.
"Well-rounded speakers on both sides but of course I favor democratic policies," said Walden," I wouldn't add or remove anyone and my overall favorite was former President Barack Obama."
As for their candidate they support acceptance speech, both believe that their candidate gave good speeches.
"I loved President Trump's speech, Steven Crowder said it perfectly, 'The RNC was a love letter to America,'" Perry said. "When I heard President Trump's speech I didn't hear him saying 'I' very much, he said 'we' a lot . . . He called America a torch that lights the world. This speech was full of optimism and hope."
"Joe Biden seemed more comfortable," Walden said, "Donald Trump is used to bigger crowds, and Biden's speech overall just felt more composed to me."
With the election only seven weeks away, the conventions traditionally give candidates a boost as they head into the final stretch. Though Biden leads in leads in various national polls and many swing states, Trump has seen a slight bump in poll averaging since the convention according to Real Clear Politics. 
Though Perry believes that the election will be tight and therefore cannot determine a winner, Walden believes that Biden will be the winner in November.
"Joe Biden (will win the election.) Many people are starting to speak out against the system and demand systematic changes," Walden said, "And hopefully Joe can begin or possibly complete a reform.