Senior Goodbye: Cameron Kritikos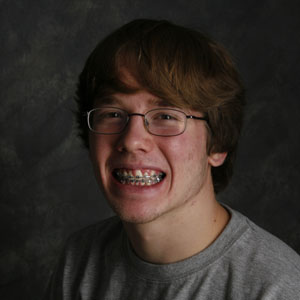 My first day of Clarion last fall was marked with embarrassment and utter humility. I unfortunately dropped my phone in the shower, don't ask, and was forced to borrow my 10 year old sister's cell phone. Little did I know, she had an alarm set for roughly 9:00am which would ring to the sound of the theme song to SpongeBob. Not once, but twice did it go off. A year and a half later, it's clear that this event has helped shape the man I am today. Ok, that was a joke. Although embarrassing, and an event which I believed would ruin my newspaper career, it has become an afterthought and Clarion has become a place for creativity, collaboration, and laughter. I have thoroughly enjoyed my two years as the sports editor and I have learned a great deal about ethics, hard work, and responsibility.
Don't get me wrong, I love writing, and walking into the computer lab each morning was something to look forward to. Putting in all of those sports scores though, oh what a pain! All of our hard work has paid off, as evidenced by our Online Pacemaker. I'd like to say thank you to my fellow editors, my sports reporters, and Mr. Mancoff. It has a total team effort both this year and last, and I am forever grateful for the support I have received.
Whether it is Friday snacks, meeting a crucial deadline, or harassing a teacher for an interview, I am going to miss all of the little details that made Clarion the award winning newspaper that it is. Although I am not studying journalism in college, I fear I will write my next article before Derrick Rose returns.
I would like to take this time to thank a few teachers who have looked over me, guided me, and have always been willing to offer a helping hand.
Thank you to Ms. Acevedo. She has shown me what it looks like to have a passion and love for another culture, which she displays every single day. She is one of the reasons why I will be majoring in spanish in college.
Thank you to Ms. Hayes. She has actively demonstrated what it looks like to be compassionate and to love others with all her heart. Her desire to know her students on a deeper level has inspired me to know my classmates better than I have before.
Thank you to Mr. Fuller. He has taught me so much more about life than he has english. Not to say that his lessons are trash, as they certainly are not, but it is the life lessons he has taught not only myself but my classmates that stick out. He taught me how to think critically and rationally, and of course, that A does not equal C.
Thanks for the memories!