#6 – One Piece
February 26, 2014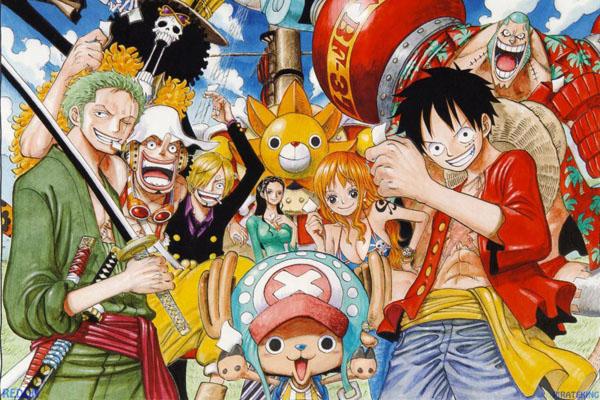 6 – The One Piece Series
One Piece is many things, which certainly spread themselves around through 70 freaking novels and a massive television series. It's about a young man, named Luffy, who wants to be greatest pirate in all the history of ever to sail the seas, and to find the single greatest collection of booty in, once again, all the history of ever. Did I mention he can stretch his body indefinitely? Well, he can. It makes for some hilarious fights. He meets some nifty characters along that way, of course, such as a flirty cook, a tri-sword wielding stoic, a curvy navigator, a chronic liar with a Pinocchian nose, and a teddy bear thing, that like, can turn into a reindeer or some really cool stuff. The journey will take you to some fantastical locations and cities, and you'll be treated to hilarious moments of absurd and silly fight sequences and, to say the least, some surprisingly tender moments.
While it's very easy to sink into the awesome pirate themes, the biggest catching point is, for me, the awesome art style. Seriously. I feel like I'm walking through a Looney Tunes cartoon that fell into a bowl of a very angry Disney. It's perfect – the villains are so much fun to look at, because they look so ridiculously over-menacing and it works just so brilliantly! Their stubble or toothy smiles or clothing style or anything else make them all so unique and spectacular. And that's nothing compared to what some of the main characters can do. When Luffy is mad, his eyes bug out so far and his mouth opens wider than the Grand Canyon and his brows are so scrunched together in such unparalleled rage that I feel like if I make a sound he'll leap out at me and smash my face against the wall.
The story is funny, intriguing, and heartfelt. The characters are thought-out, hilarious, and consistent. Please, treat yourself to One Piece.