#4 – Lone Wolf and Cub
February 27, 2014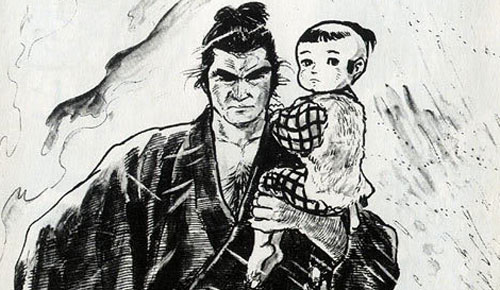 4 – Lone Wolf and Cub
Lone Wolf and Cub is, frankly, pretty heavy. Set in Edo period Japan, (and the novel has been acclaimed for its spectacular accuracy of the time period) it's about a Ronin (wandering samurai) named Ogami Itto, the former Shogun executioner, who is now an assassin for hire. I can't fully explain it, but the story is told in an episodic way, with each chapter being an individual assassination contract, with a couple exceptions. Over time, we learn more and more about what led him to his path of the assassin and what he hopes to achieve. It's still a bit hazy to me, as the first book didn't even fully explain it, but from what I gathered, Ogami's family was disgraced and killed by a rival clan, but he got away before they could get him too, and he now wanders as a Ronin, all roads eventually leading him to his revenge. The fact that this is episodic doesn't exactly progress the story that well, but that's not the point. Each chapter is a different job that Ogami has, where in each one, he's presented with different tasks and different characters. They're meant to provide barrels of character depth to Ogami – and it works. Very well. We become so familiar with Ogami and how he allows himself to do what he does with such efficiency.
However, what makes him so mysterious is that he brings his adorable little child Diagoro along with him at all times, and the child plays a part in many of his assassinations, either as a distraction, something to throw his targets off, a spy, and anything else. His child is about 5 years old, give or take. The work of death is not exactly the place for a child, at all. Still, the authors embrace that fact and deeply explore the relationship between father and son – Only a son can know his father's heart, as a father's can know his sons. And, it cannot be ignored that a wolf cub is still a wolf. So, the two always travel together and are never apart. In the instances that they are apart, Ogami is not a happy camper. He is an unbelievably skilled swordsman, and it makes the fight scenes wicked awesome. The way everything is drawn here is infinitely down to detail, in such a perfect way that it's realistic yet still so much fun to look at.
But, as I said, this is heavy stuff. There are several scenes that will make you cringe or not want to continue. Many of the chapters are very mature, either due to intimacy or some of the horrendous things a character might do. This isn't exactly for everyone, but if it IS for you, you will not be sad you picked it up.