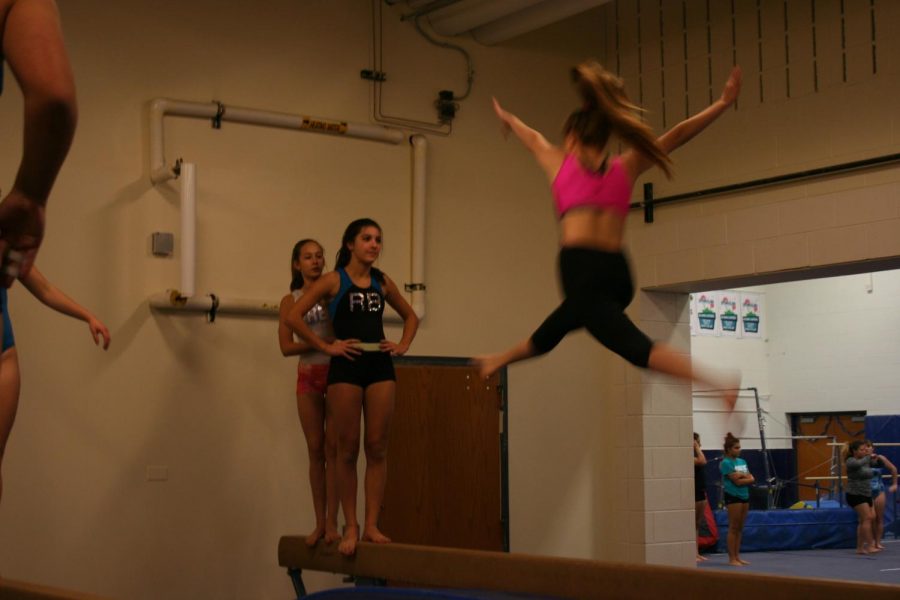 …from the balance beam
Nerves. A feeling all athletes have experienced. Sometimes a quick self-pep talk and a stretch scares them away. Often times, however, we athletes need more than that.
Personally, seeing a few familiar faces in the crowd can calm my jitters. Even hearing my name shouted by my teammates boosts my confidence.
After I compete and see that my score has improved, even though it's pretty low, I still wish I had a little more recognition. And then I think of my teammates.
I was a member of the 2017-2018 JV Gymnastics team. This year was my first year ever competing in gymnastics.
As one can imagine, my skills weren't the best.
As weeks turned into months, I could see not only myself, but my teammates, improve greatly. Although there is a major difference in JV and Varsity gymnastics, we all support one another like one big team.
Every meet, as soon as we saw our teammate ready to jump on the beam, or begin their floor routine, there we were, shouting words of encouragement.
There is nothing like hearing your teammates shout your name before and during your routine to build your confidence.
And even when I would fall down, their words picked me up, and helped me to finish strong.
Seeing my friends on varsity struggle during practice but kill it at the meet made me so proud. But what always bugged me was the lack of support and recognition from the school.
I will admit, I was NOT the best nor most improved on my team, but when I did learn a new skill on beam, my teammates supported me as if I won the gold.
So imagine the feeling when you have been practicing every day, and you finally throw your flip flop and land it, only to see a few people cheering you on in the stands.
"It's great to see parents, but I wish my friends and classmates were there because, for me, a bigger audience boosts my confidence," said senior Katie Polanski.
Of course, as a team we're always cheering for our teammate, but often times, we're the only ones cheering them on.
The highest score one can receive on an event is a ten. Earning a ten is a great achievement because it is a perfect score.
At one home meet, my (varsity) teammate, Amber O'Brien, scored a solid nine on her floor routine.
"Personally, having a small or big audience doesn't matter to me, but when I have a friend or the crowd cheering me on, I definitely do much better and feel more confident," said sophomore Amber O'Brien.
The main reason for attendance at sporting events isn't for the school itself, but to build the athlete's confidence and support the school in all areas other than football and basketball.