How the American government is responding to COVID-19
According to the Centers for Disease Control and Prevention (CDC) as of today, the United States has a total of 33,404 reported cases of the Coronavirus (COVID-19), though many others have gone undetected or uncounted due to the delay and inaccessibility of the testing system.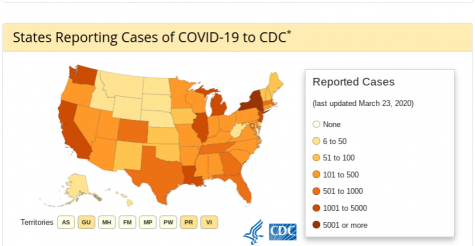 The pandemic has sprung the American government into action both at the federal and state levels. However, many civilians are still unaware of what specific actions are being taken to minimize those affected and slow the spread of COVID-19.
As a result of Italy becoming one of the countries hit hardest by the virus and therefore being labeled a Level 3, on March 11 President Donald Trump and his administration implemented a 30-day travel ban to Europe. The ban excludes countries in Europe that aren't part of the Schengen Area, including Bulgaria, Croatia, Cyprus, Ireland, Romania, and the U.K.
A report by the Department of Health and Human Services published on March 13 outlines a detailed response plan that requires participation from multiple government departments/agencies and also clarifies what the American government currently knows about the virus's origins, symptoms, risk assessment, etc. 
On March 18, Trump and the coronavirus task force discussed how the administration is planning several measures to combat the spread of COVID-19 and help citizens financially during these trying times.  
"The Department of Housing and Urban Development is providing immediate relief to renters and homeowners by suspending all foreclosures and evictions until the end of April," said Trump. 
Furthermore, an executive order issued on March 18, stated that the president will use the Defense Production Act to obtain, "health and medical resources needed to respond to the spread of covid-19, including personal protective equipment and ventilators."
Trump stresses the significant role the Federal Emergency Management Agency (FEMA) now plays in this recovery process. 
"Last week I signed an emergency declaration under the Stafford Act, which as you know, we invoked previously and which activated FEMA's National Response Coordination Center. FEMA now is fully engaged at the highest levels. Today FEMA is activated in every region," said Trump at the discussion on the 18th.
Some have accused Trump of politicizing the coronavirus because of the way he refers to it. At his daily coronavirus task force briefing on March 18, after being asked by a reporter why he continues to refer to the virus as the "Chinese Virus" given that this label intensifies bias against Chinese-Americans in the U.S., the president defended his choice of words. 
"Because it comes from China. It's not racist at all no, not at all. It comes from China that's why. I want to be accurate. I have great love for all of the people from our country but as you know, China tried to say at one point, maybe they've stopped now, that it [the coronavirus] was caused by American soldiers. That can't happen, it's not going to happen, not as long as I'm president. It comes from China," said Trump. 
As for preserving the economy, in a statement made on March 23, the Central bank stated, "Aggressive efforts must be taken across the public and private sectors to limit the losses to jobs and incomes and to promote a swift recovery once the disruptions abate."
Arguably most of the federal government's responses to the Coronavirus include long term planning rather than immediate operations. As a result, state governments have been on the front line, making decisions that directly protect their populace and benefit the good of all people. 
"
Every generation of Americans has been called to make shared sacrifices for the good of the nation … and now it's our time, we must sacrifice together because we are all in this together and we'll come through together"
— Donald Trump
So far, Illinois governor J.B. Pritzker has put in place eight state executive orders related to COVID-19. The two most popular being the one that closed all private and public schools for educational purposes (while keeping the school building's supply of food for students in need in effect) which was made on March 13, and the one that prohibits gatherings of more than 10 people made on March 20. The other six regulate things like cannabis applications, large gatherings such as concerts or sporting events, sit-down restaurants and bars, and essential businesses and operations. To see the full list in detail visit www2.illinois.gov.
Pritzker also declared the time from March 13 up until April 7 "Act of God" days, a period in which there is a condition beyond the control of the district that poses a hazardous threat to the health and safety of the students. During this time, the Illinois School Board of Education recommends that work done by students via E-learning does not count towards their grade or otherwise impact a student's academic standing. Originally Pritzker declared schools would be closed until March 30 but then extended it up until at least April 8. Chicago Public Schools stay closed until April 21. Consequently, the "Act of God" grace period is subject to change due to the fact that the exact duration of this pandemic and its spread are impossible to know at this time. 
"I wish I could stand up here and tell you when your schools will safely re-open, but that is not an answer that I have at this time," said Pritzker on Friday, March 20 during his announcement of the shelter-in-place. "We'll continue to update you with new information as we have it."
Pritzker's stay-at-home/shelter-in-place order basically requires Illinoisans to practice social distancing and encourages them to only go out for "essential activities". Grocery stores and food production, pharmacies, health care, utilities, shipping/delivery, banking, other governmental services, law enforcement, emergency personnel, and highways are all considered "Essential Businesses and Operations", and therefore are permitted to remain open/functioning. 
All in all, officials say that the best way to combat the Coronavirus is containment. Although containment forces people to remain in their homes with very limited social interaction, without it this outbreak will continue to be indefinite.  
"Every generation of Americans has been called to make shared sacrifices for the good of the nation … and now it's our time, we must sacrifice together because we are all in this together and we'll come through together," said Trump.