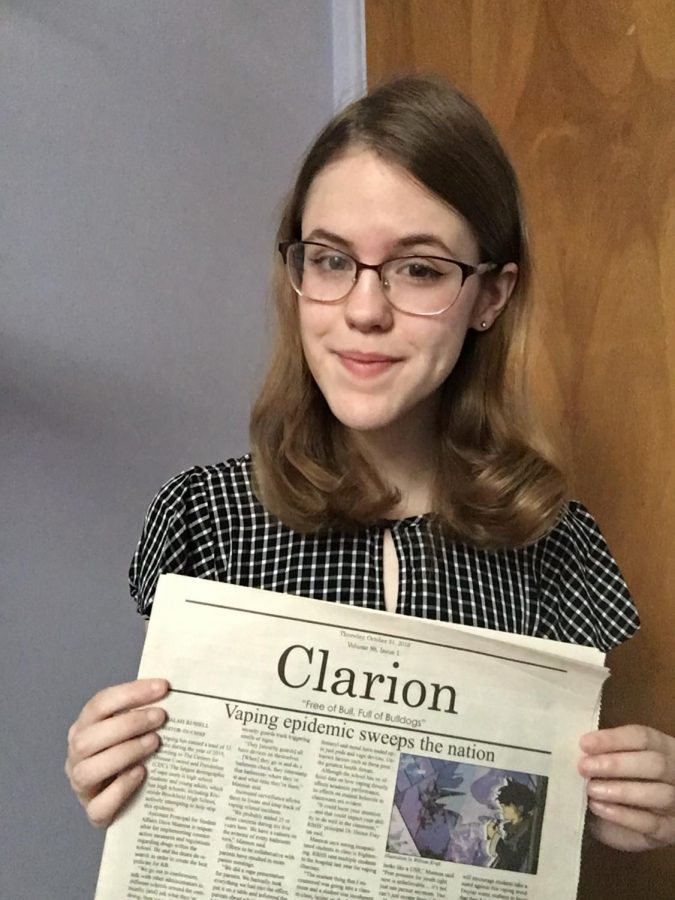 Madi Heninger
Four years ago, I never considered journalism to be something I was interested in, and I'm still not quite sure what made me sign up for Clarion my freshman year. I realize now, however, that it was one of the best decisions I've ever made. 
As it goes for all high school freshmen, it can be terrifying to enter a new school with people you've never met before. Things became a lot less scary the moment I stepped into Mr. Helgeson's room on the first day of school. I was met with the most welcoming and  passionate group of student journalists, and that energy has never left the staff since then.
I quickly discovered how exciting it was to report the school's news and that my love for writing could be put to use. Being part of a news staff connected me with so many of the friends I have today and taught me so much about teamwork and journalistic integrity. Clarion consistently challenged me to see everything from multiple perspectives, solve problems in creative ways, and speak up to voice my opinions. 
I've grown in many different ways since freshman year, and in all honesty, I owe a lot of that progress to Clarion. Collaborating on projects, interviewing people, and fulfilling the responsibilities in a leadership position as an editor have forced me to come out of my 'shell' and become the person I am today. Expressing myself and socializing in general became much easier as high school went on because of the environment Clarion provided. 
No matter how long this article ends up being, I know that it will never manage to fully express my gratitude to the Clarion staff and to Mr. Helgeson. Mr. Helgeson has never failed in showing constant support to the entire staff and encouraging everyone to take pride in their work. I will always be thankful for his guidance as our PROUD sponsor. 
I am also going to miss the staff and all the unforgettable times we've had, like the long nights during hard copy season, staff meetings, fake press conferences, and many more. 
Freshman Madi had no idea of how much she was capable of doing through Clarion or how hard it would be to say goodbye. I genuinely can't imagine what my high school experience would have been like without Clarion.
Now that my time in high school has come to an end, I move on to the rest of my life as the passionate writer and leader that Clarion has helped me become.