From Book to Film: Of Mice And Men
May 8, 2014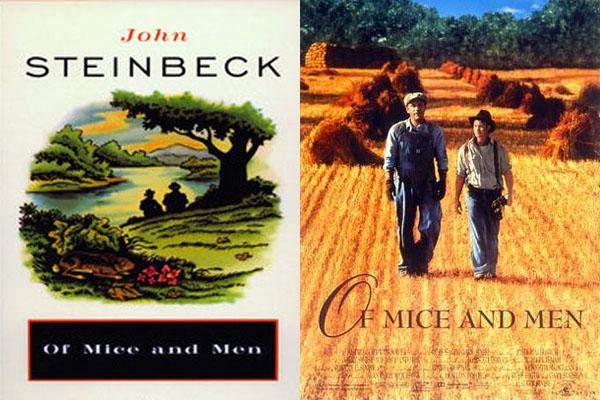 The novella Of Mice And Men by John Steinbeck set during the Great Depression follows the friendship of George Milton and Lennie Small as they dream of one day owning their own ranch. Though, since the title is derived from the line of Robert Burns' poem 'To a Mouse' which reads "The best laid schemes o' mice an' men / Gang aft agley" (The best laid schemes of mice and men / Often go awry) you can probably imagine that things don't exactly go according to plan. This story has been adapted twice for the screen, once in 1939 and again in 1992. For this review I decided to focus on the 1992 version.  Since it's the more recent of the adaptations, it's probably the one that my peers would choose to watch.
The film was directed by and starred Gary Sinise as George alongside John Malkovich as Lennie. The film was mostly faithful to the novella, with some scenes only slightly altered and some material added, but that was probably done to make a relatively short novella into a full length film. If you read the novella in school I definitely recommend watching this version as I find it definitely captures the feeling of the story and the performances by the two leads is terrific.
I decided to interview English teacher Wendy Cassens about how Of Mice And Men has been a required reading in many schools and has also been a frequent target of censors for vulgarity and what some consider offensive and racist language. It also appears on the American Library Association's list of the Most Challenged Books of 21st Century.
"I don't think it should be banned or censored because Steinbeck is trying to show that [George and Lenny are] not treated fairly. He picks the lowest people in society and shows that they should be treated better," Cassens said.
Cassens also added how she finds that it's a good story about friendship, which is something that I agree with.