From Book to Film: A Separate Peace
May 16, 2014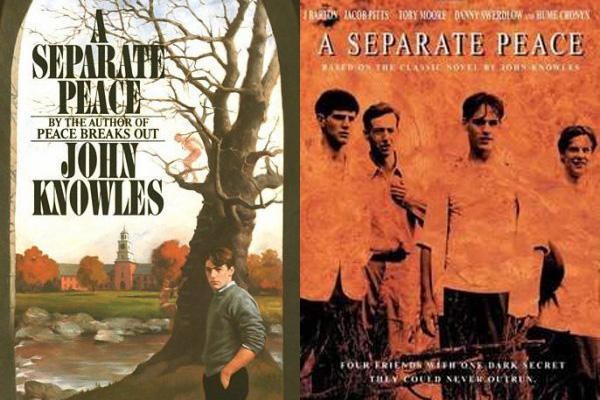 A Separate Peace by John Knowles is a tale about friendship and tragedy. The novel is told from the perspective Gene Forrester about his time at Devon prep school and more specifically the relationship he has with his best friend and sports prodigy Phineas or Phinny for short. And you can probably already guess that it is taught at RB and that there's a film adaption. Of course there have been two film adaptations, one in 1972 and a another made for television in 2004. I wanted to review specifically the 1972 version since it's screenplay was by Fred Segal and Knowles but sadly I was unable to find a copy so I instead rented the 2004 version.
The thing with A Separate Peace is it's a story that requires you to really be inside the main character's head to understand everything, which is something you can't do nearly as well in a film. And sadly the fears turned out to be accurate. None of the characters are how I pictured them and the film either omits or does a poor job of adapting several important parts of the novel. What stood out above the rest was this one important scene involving are two main characters and a tree and I really didn't like how it was depicted.
Before I get into the issue of why this book shouldn't have been adapted, I felt that I should proably go into why any book is adapted for film.
"Money," said English teacher Tom Fuller.  "If  the book is relatively successful and popular film producers know it will also play well."  Fuller noted that directors and producers might always consider whether or not a book can be adapted into film line by line, but ultimately he thought the motivation was financial.
"I find nothing interesting about adapting a book to film.  It's already been created," he said.
So why would an author like Knowles sign off for a film adaptation and help write the script?  You might think the author would know better than anyone that the story really can't be told through film.
"Why would he sign off?  For exposure purposes.  It's a really popular book that's taught in a lot of schools and a film makes more people aware of that," Fuller said.
Money and exposure may sound really cynical to some, but to me it sounds like a pretty good explanation.