From Book to Film: Divergent
April 1, 2014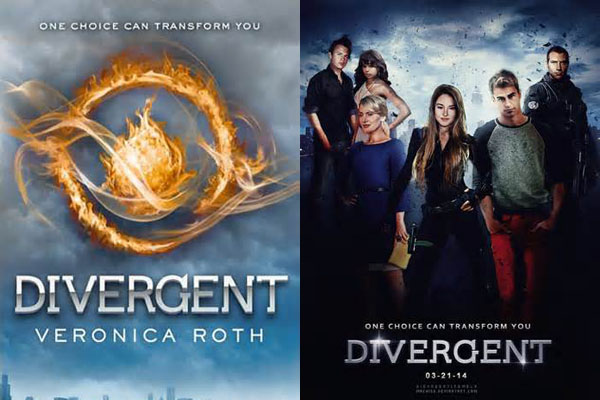 While Divergent is not actually taught as part of the RB curriculum, the novel recently released on the big screen has been part of RB's now-discontinued summer reading program.
 The plot of Divergent by Veronica Roth is best described as The Giver by Lois Lowry meets The Hunger Games by Suzanne Collins. And it's also set in one of the greatest cities of all time:  Chicago. To be more specific the plot follows a girl named Beatrice "Tris" Prior who lives in a dystopian world where you get sorted into separate categories based on who you are.  Categories include Abnegation for the selfless, Amity for the peaceful, Candor for the honest, Dauntless for the brave, and Erudite for the knowledgeable.  Of course, when Tris gets sorted, she finds she does not fit any of the categories.  She is "divergent," which leads to a whole series of problems.
I saw this film the first Monday of Spring Break, and to my greatest surprise, I found that the theater was mostly empty, with only fifteen to twenty people there which surprised me given the popularity of the novels. The film only came out three days ago.
I must say I really liked both film and book. Granted I liked The Hunger Games more, which I'll just mention because that series comes up a lot in this review, but still this was a really good movie. Shailene Woodley (who will also be appearing as Hazel in the film adaption of The Fault in Our Stars) was excellent as the hero, as was Theo James as the dreamy love interest.  I also found it interesting how Miles Teller was cast completely against type here.  Instead of a fun loving hero, here he's one of the villains, and he's good at it.  You hate the guy right off the bat.  Also of note, Kate Winslet (having forgone her trademark of appearing naked in all of her films for a PG-13 rating since she's not as young as she used to be) is also really good as another of the story's villains.
RB Department Chair of Library and Instructional Technology Bridget Wilmot said, "[The dystopian genre] is the most popular genre right now.  When The Hunger Games was so successful, authors started writing like that.  Now, Divergent has become The Hunger Games."
Divergent was published April 25, 2011, just three years ago.  In the grand scheme of publishing, that's actually a very short time.  This only goes to show how popular Roth's books have become.
Still, Wilmot is realistic about the series' long-term appeal.
"It'll be popular until the movies come out because they create buzz that'll get kids to read the books.  But, by the time the movies are out, some new series like Twilight or The Hunger Games will come out," she said.