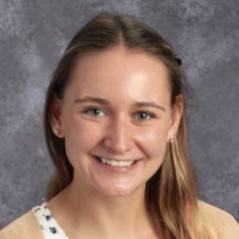 New teacher Tuesday: Lillian Holubek
The Riverside-Brookfield High School faculty has grown considerably over the past year, with the most recent addition being Mrs. Lillian Holubek. Mrs. Holubek was hired into the Social Studies department at the start of the 2021-2022 school year as a teacher for U.S. History and Urban Studies. 
"I always knew RB was my dream school to work at. I had a great experience here and loved all my teachers and coaches. I wanted to continue that experience for more students." Holubek said.
An alumna of Illinois State University, Holubek graduated in 2020 with a degree in History and Social Science Education. As an R.B. graduate herself, graduating in 2016, she wanted to help give the current students of R.B. an experience comparable to her own. 
"I always wanted to be a teacher. I have a lot of younger cousins and I have a younger brother, so I was always helping them out with homework and doing little activities for them all the time." said Holubek.
Holubek got much of her inspiration for becoming a teacher through her childhood. Through helping her younger brothers and cousins with school, she was able to gain a love and attachment to teaching. She also says that in High School, her favorite subject was Social Studies, which led to her teaching social studies today. 
"I really do plan to build nice foundational relationships with my students and incorporate some things that I've learned in college that I may not have learned before ya know and was kind of shocked by," Holubek said. 
Holubek's hopes for the school year are to create better foundational relationships between students and herself. as well as educate her students using progressive practices and ensuring that students learn about the social inequalities of history and inequalities of minority groups.
 "I want them [students] to get a well-rounded history, not just the male, whitewashed version of history," Holubek said.
The RB social studies department is happy to have Mrs. Holubek joining the team, and both hope for a good year with cooperation and education to last the rest of the year and beyond.