#5 – The Dark Tower
February 27, 2014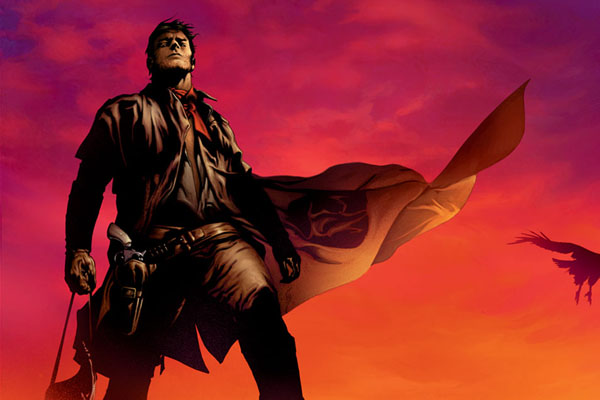 5 – Stephen King's The Dark Tower
Stephen King's epic fantasy "The Dark Tower" has been around for quite awhile, and it's been around the block. Now, Marvel has revived it anew in their graphic novel adaptation of the series, and it's pretty darn great. The Dark Tower is about Roland Deschain, the youngest gunslinger to ever sling some guns. He apparently has to find the Dark Tower. Does he know what it is yet? Nah. Do I? No, I haven't finished the series. But, I'll give you some appetizers for the moment.
After some character reveals and plot twists, he's sent off by his mustache wielding father to go investigate a neighboring community so he can one, aid the gunslinger's war and two, hide out for awhile against, basically, Satan, or the Spider King. His friends Alain and Cuthbert join him, and he meets some fun people, including his star-crossed lover, a pitiful kid, and some more mustache wielding villains who look older than Dick Clark aging 200 years in 3 seconds. On his journey, he encounters one of Satan's palantirs that doesn't much like him, and after several adventures and fights, they return home, with less than pleasant company. There's little I can say about the storyline – It's a Stephen King story. It's violent, it's vulgar, it's hilarious, it's scary, it's heart-wrenching, it's bloody brilliant.
The art styles here are quite pleasing, gruesome as they are. You'll see every blood splatter, busted face, everything, in lovely detail. All the characters are realistically drawn and brought to life with all the little details of their hair and face and posture and so on. The fight scenes are super fun to read because of how great they're created with the amazing drawing. Somebody flying off a horse or someone's head being thrown in a friendly game of catch all worked so well. My favorite part of it all is the lighting effects. It's a very very dark set of graphic novels. (Hah, Dark Tower, Dark novels… eh, I thought it was funny.) On an old witch or an extreme close-up of Roland's face, the lighting plays off to make them look so ridiculously over-menacing. The attention paid to detail on it is spectacular. I got goose bumps on every close-up because every shadow on someone's face popped right out to me.
Sounds pretty great, huh? Thought so.