From Book to Film: Macbeth
March 7, 2014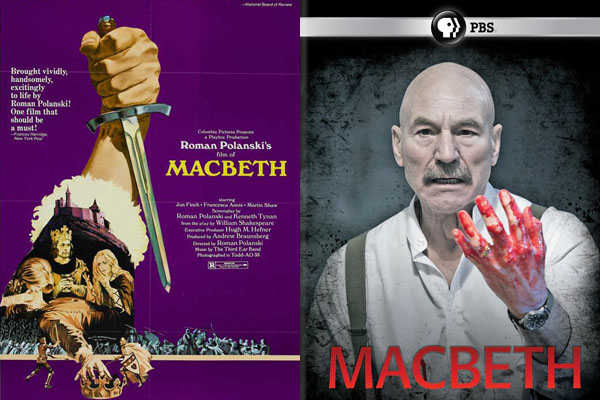 If you're like me, you're probably saying Macbeth is a play not a book. But I find that, as it can be read as a book and is a large part of the curriculum, that it should count anyway. In case you either haven't read the play or don't know what it's about, a brief outline of this Shakespearean tragedy is that Macbeth is a general who, upon hearing a prophecy from the Wyrd Sisters that he is to be king, and with the goading of his wife, embarks on a bloody campaign that gets him the crown at the cost of several lives. Along with Shakespeare's other famous plays, there have been multiple film adaptations, but I'm primarily going to focus on two. First there's the 1971 version, as it's a more well known adaption and also because it's highly different from the play. The other is a more recent 2010 version made for television which, English and Shakespeare teacher Thomas Fuller tells me, is the only good film adaption that he's seen.
The 2010 version, directed by Rupert Goold and starring Patrick Stewart as Macbeth (yes, Prof. X from X-Men is now playing a serial killer) and Kate Fleetwood as his wife. Unlike the 1971 version, this version is a modern day adaption that also evokes the atmosphere of the Soviet Union under Joseph Stalin. Normally I would go into detail about what I liked and disliked about the film, but I really don't have any complaints about this one. The Wyrd Sisters are increasingly frightening from how they appear and disappear when you least expect them, despite their really simple costumes. All the other acting is phenomenal, especially Fleetwood's performance of the sleepwalking scene.
Speaking with Fuller, he clarified that this version is the best one to use to teach the play as it's school appropriate and that kids find the post-apocalyptic setting visually interesting.
"It's all a matter of the director and putting it in a way that fits the audience best.  It's done to fit what's popular in current culture," Fuller said.
The 1971 version, is directed by Roman Polanski and stars Jon Finch as Macbeth and Francesca Annis as his wife. For the most part, I really enjoyed this adaption except for two things. First, there were the Wyrd Sisters, who are supposed to appear and disappear at random. That does not happen and it frankly left me highly disappointed. Then, there was the sleepwalking scene. The entire time I thought of the 2010 version where it utilizes the use of it being a film to fully show Lady Macbeth's haunted expression. That's another thing that doesn't happen and once again, is highly disappointing. On the other hand what I enjoyed about this film was once again the acting. Through Finch's performance as Macbeth, I was able to see the character gradually lose touch with reality, especially towards the end. Also, some of the soliloquies were done as inner monologues, which I personally found interesting to see.
"For it's time it was a good production and I look at it this way, Polanski took it this way and Stewart took it in another," Fuller said.
Also, besides being more violent in nature, this version differs further from the source material as it takes the relatively unimportant character of Ross ( played here by John Stride) and turns him into a highly immoral and opportunistic henchmen of Macbeth. Personally, I found this interesting as Polanski does this without giving him any new dialogue or putting him anywhere that Shakespeare does not put him, with the exception being this one scene where he becomes the third murderer. Of course, I also agree with Fuller's opinion that it doesn't work as Macbeth need to feel isolated, without anyone having any knowledge of what he's done.
In conclusion, I would recommend watching both versions, but if you want something that's a bit more in keeping with the play, rent the 2010 version.