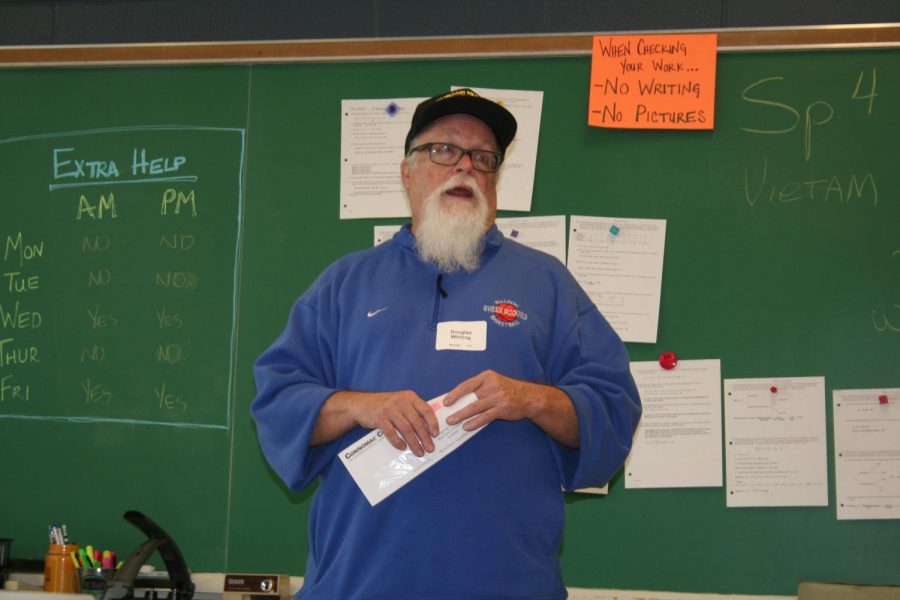 Doug Whiting
Doug Whiting was drafted into the United States Army in 1969. He served in the Vietnam War from 1969-1971. On Veteran's Day of this year, Whiting told his story to a senior math class.
"There's something that all high school seniors kind of anticipate, and that's a letter," said Whiting. "You seniors are all looking forward to that letter of acceptance from your college of choice, and you can't wait to get that letter. That letter will then affect your life."
As life-changing as college acceptance letters can be, Whiting's letter changed the entire course of his fate.
"I received a letter in the mail back in 1969, but it wasn't of my choice. It was a draft notice from the draft board in Kalamazoo, Michigan. As I walked to my house holding the letter, I was trembling. I thought to myself, 'Oh no, this can't be real'. I opened the letter, and sure enough, it said 'Greetings'. Greetings? Who wants to hear that from the draft board?"
Whiting had two weeks to get his affairs in order before going into the military on June 24, 1969. He went through basic training at Fort Knox for eight weeks during that summer.
At the end of basic training, Whiting was selected to become a Military Policeman. He spent seven more weeks of training at MP school. Once finished, Whiting was relieved to hear he was being assigned at Fort Carson, Colorado and not Vietnam.
However, Whiting's orders were suddenly changed. The Battalion Commander of the training troop told all the companies they were going to Vietnam.
"You can imagine how I felt. I had a wife and a six-month-old son, and I was going to be at 'Nam. It just was not a pleasant thought."
Whiting went on leave during November of 1969 to spend time with family before going to Vietnam.
"We celebrated Thanksgiving, and then two days later we celebrated Christmas. I wasn't going to be home for Christmas. I was going to be in Vietnam. And I can remember boarding the plane  at O'Hare Airport. As I'm walking down tunnel into the airplane, I turned around and there was my wife, my son, my dad and I'm thinking, 'Will I ever see them again?'"
In Vietnam, Whiting was transferred to Cam Ranh Bay. Whiting was a part of the 18th Military Police Brigade in the Republic of Vietnam.
"I remember spending Christmas Eve at a guard post thinking, 'I hope this will be a silent night'. You know it's not a very holy night; here I am sitting in Vietnam, but I sure hope it's going to be a silent night."
Whiting had found himself in frightening situations during his time in war. One incident involved a grenade being rolled into an MP station Whiting was in. This is an episode Whiting has gone through PTSD counseling for.
"We had to write about the situations that caused our PTSD, and I kept telling my counselor, 'I don't remember what happened'. All I remember is I tipped over backwards in my chair and everything else went blank. It's a situation where my memory won't allow me to recall it."
This is a position Whiting has noticed that other veterans seem to be in.
"We come back, and we don't talk about our experiences. As a result, the PTSD affects us in ways that we never realize. Until I went through the counseling, I really didn't know what this was doing to me."
Whiting recalled how his niece was told never ask Whiting what happened in Vietnam.
"That was exactly the opposite of what I needed. I needed to talk about it, and being a Vietnam vet, nobody wanted to talk about it."

After a year in Vietnam, Whiting was ordered to serve at Fort Monroe, Virginia where he participated in his company's softball team. His coach tried to convince Whiting to re-enlist so he could keep playing sports.
"I told my coach, 'Why don't I just go home?'"
Whiting left the service on June 25, 1971. He missed seeing his son for his first 18 months, but they've been best friends ever since.
"Times were tough, but you survive."
He found the military as a misuse of his time, but he is grateful that Obamacare provides all his health insurance through Hines VA. He uses the services for his PTSD and knee issues. Whiting thanks RBHS for contributing to Hines.
"College isn't for everybody, and military is an option. There's opportunities now to get a skill that you can really make some good dough with once you get out of the military.
The most outrageous question about the war Whiting had ever gotten was, "Were you ever afraid over there?" Whiting answered, "Only 365 days."
During the war, Whiting experienced rocket attacks, hostile fire, friendly fire, and he never knew what was going to happen.
"For 365 days—one year of my 65 years—was spent in fear. That's how one letter can affect your life."

Whiting joked to the seniors to pick the right college.