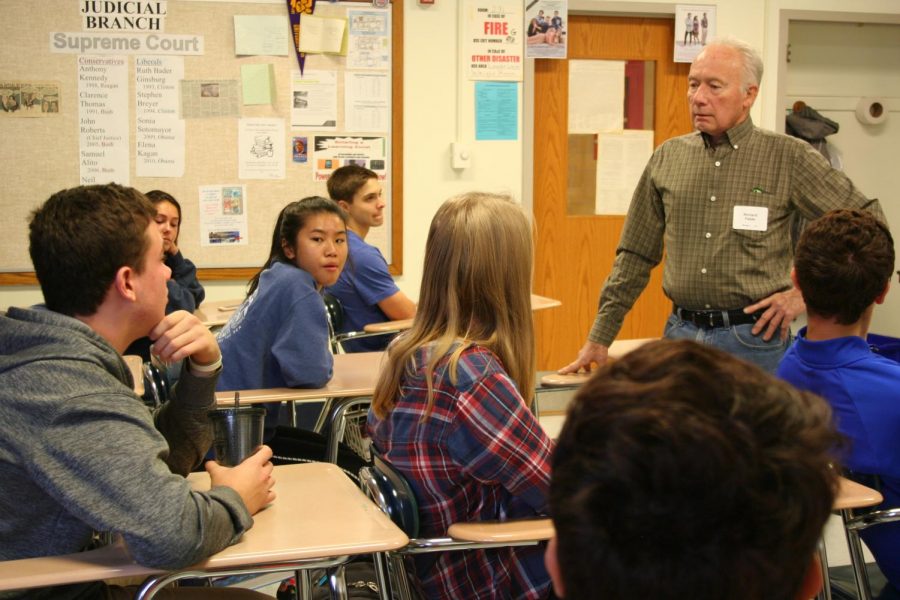 Richard Fields
The veteran that visited Monahan's second period was Richard Fields, the father of a teacher at RBHS, social studies teacher John Fields.
Fields started off as a mechanic in his early 20s, working at an auto body shop before he made the decision to enroll himself in the military to help during the Vietnam War in 1966. He wasn't used as a field soldier, but mostly worked with the auto and equipment repairs, helping to repair telephone cables and climbing telephone poles.
"Where I was, there was no action," said Fields.
When he was stationed in Saigon – now known as Ho Chi Minh City – he could hear the action and see choppers flying overhead, but he was not close enough to see any action.
"We would always see wounded coming in the ambulance because we were close by," said Fields.
Fields, like the others soldiers, was expected to build and set up his own shelter/barrack. He had help from a friend who gave him six truck loads of lumber.
"We had six people living on the bottom and I made room up on top," said Fields.
Fields said that his unit had great equipment when it came to equipment. He got to know people on the job that would supply him with air conditioning and refrigerators.
Fields earned the title of sergeant quickly within 18 months, when it may take years for others. Depending on his experience and job position, he was then asked questions to determine if the board liked him or not and he ended up earning a higher rank.
Around the end of his service, with two days left, Fields was put on guard duty and had the job of looking out for enemies trying to get in through the fences. One night, he ended up killing a monkey and a cow by mistake and the army had to pay for the cow because the people in Vietnam don't eat cows.
After returning home from the war, Fields was able to easily go back to his old job, but the country, on the other hand, seemed divided because of the controversy surrounding the war in Vietnam.
"When I came back they didn't like you. They had all the hippies going and any village or town in the U.S we were stationed in didn't like you either," said Fields.