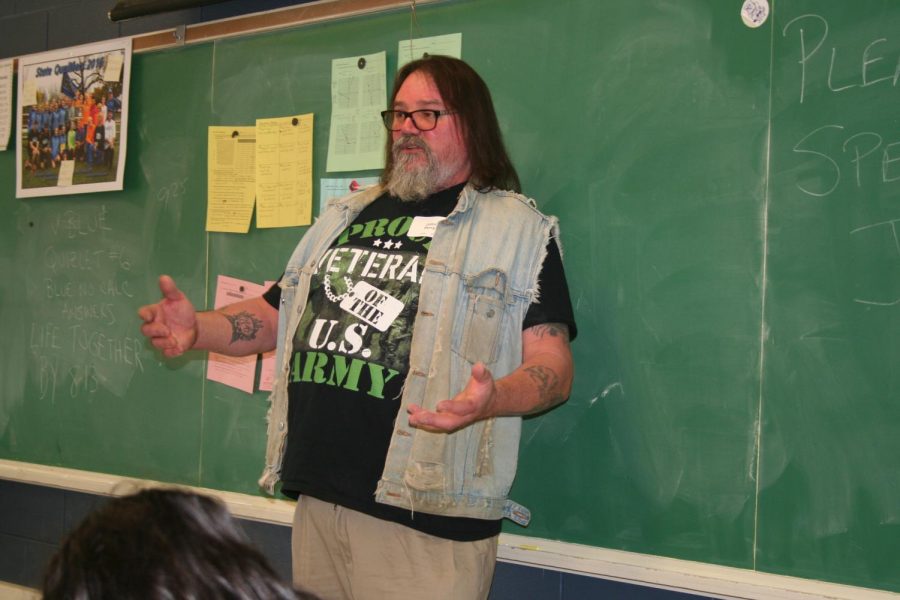 John Perry
Veteran John Perry, Specialist 4th Class, served in Egypt and Korea during peacetime. Perry went to both Morton West and East, and graduated with a GED. He decided to enlist after high school, as there were few jobs available and most shops were closing. Perry had begun to run with a bad crowd, and needed a change.
Perry states, "There was no work left, and I needed to do something, so I thought that I would enlist. I needed a chance to get away and do something to better myself."
For Perry, choosing what branch of the military to join was relatively simple.
"I chose the army because I wanted to do something I had a good role in. I didn't think I was smart enough to go into the air force, which would have been my choice. I did give serious thought to becoming an airborne, but jumping out of a perfectly good plane could use some re-evaluating. Otherwise, I wasn't particularly interested in the marines, the constant high intensity would be too much. With the navy, I wasn't too sure about being on the water all the time," said Perry.
Due to being in the delayed entry program, Perry was required to take a test and wait. After a few months, Perry went in after Christmas. In the U.S, he started out in Fort Jackson, South Carolina, then went to Fort Leonard Wood in Missouri, and after to Fort Stewart, Georgia before going overseas. In Fort Leonard Wood, Perry received Advanced Individual Training, which prepares for your job in the military after basic training. In Georgia, Perry hauled JP4 fuel for helicopters in the 2nd and 9th air cavalry.
"In Georgia, we had all the new Abrams tanks and at the time, new helicopters. I was in charge of the JP4, and we would have simulated war games where I was in one of the trucks that would be out fueling the helicopters and tanks," he said.
In 1983, Perry went on his first overseas assignment, and was stationed in Egypt for 45 days, or about 6 weeks. In Egypt, Perry continued hauling fuel while also learning equipment upkeep in a desert environment."In Egypt, we learned about how the sand would affect our equipment. The sand would eat at the helicopter blades, and would get into everything, including the fuel tanks. Along with this we learned how to deal with sandstorms and the temperatures," Perry said.
Being stationed in Egypt showed Perry a new perspective on how different countries lived.
"Egypt was very interesting to see. Everything we take for granted, they didn't have. Their water source was stagnant water, and people would run down and filling buckets to use as their drinking and cooking water," said Perry.
After Egypt, Perry was stationed in Korea driving trucks, and hauling fuel, ammo, and heavy equipment such as bulldozers and front-end loaders. In Korea, Perry drove all over the country, from Puson to the DMZ through the mountains. During this time, Perry earned three medals, one for barracks cleanliness, another for being organized, and for vehicle maintenance and performance. Vehicle maintenance and performance was earned after driving for about 1500 miles without any accidents or injuries while going through mountains in Korea.
Other jobs Perry worked in Korea included construction. One job was to drive water trucks around to keep the roads from getting too dusty. He also helped to build a security berm around the Osan Air base for trucks and cars to drive on.
Perry enjoyed doing this type of work, saying "For about 6 months building the berm, it was a tent city. I spent a lot of time outside, living out in the field in tents and being out in the elements instead of the barracks."
After Korea, Perry decided to leave the military. Perry decided to go back into construction work, as that was what he was doing in Korea as part of the Engineer Battalion. Perry worked in cement laborer until the season ended and he went into installing windows, doors and siding. Perry continued this work for 25 years until the recession, and went to his current job doing deliveries and pick-ups in the stockyards in Chicago.
After serving, Perry recommends enlisting.
"At the time, the military was what I needed. I learned about the country, and I learned about respect, and I do think that everyone should do a little bit of it."