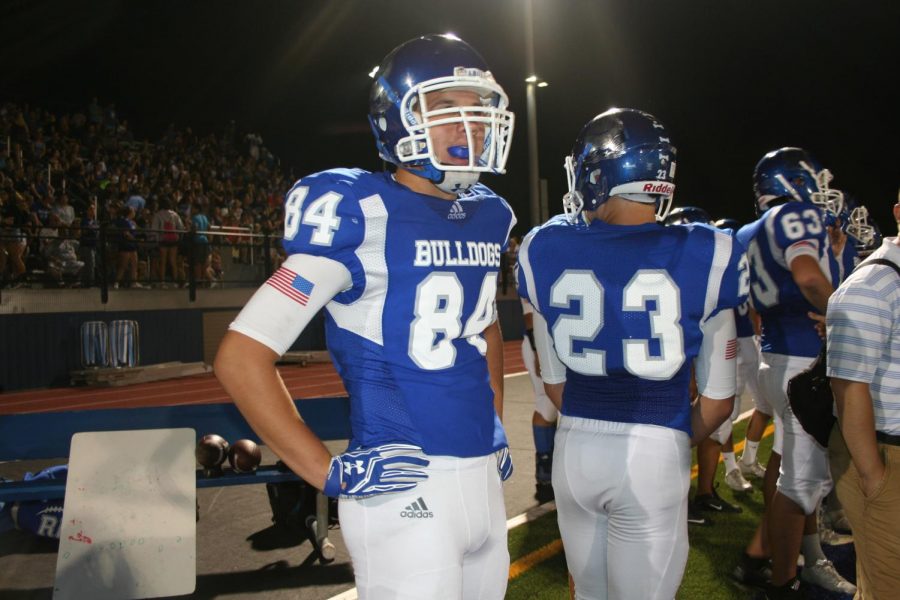 …from the football field
I'm just a freshman, and honestly, I've only been to one varsity football game: the homecoming game. That game was packed though, and I've never seen so many people cheering in the football stands, but this could have been because it was one of the biggest games of the year. I couldn't say the same for freshmen games, but this is understandable. Obviously, varsity games are going to be more exciting than freshmen games, but I still think students should attend at least one game for the freshmen, as the games are usually attended by parents only.
I also played up with the sophomore team, and I think that they were a little more supported.  But again, students usually only came to home games. I can understand this, as I know people have homework and activities they have to deal with after school, and some of the games we play are a good distance away. However, I think people should still come to at least one freshman or sophomore game during the season.
School spirit is a problem at RB. I do believe that a lot of the varsity games for football were well attended, especially when they were at home, and this makes sense. This doesn't mean students shouldn't come out to support all of the teams, however. If people can find time to come watch varsity play, they should be able to find time to watch the freshmen and sophomores play at least one game.
This isn't the group that has the biggest problem though. Every sport or activity at RB lacks school spirit and support. From what I have heard, the students at RB used to go to games or activities all the time to watch and support their friends. Whether it was a football game, a water polo game, or the school musical, there was always a good crowd. Nowadays, the students only seem to attend the more advertised activities at RB such as the homecoming games or the musical.
Unfortunately, not all the sports and activities are advertised the same at RB. Some are talked about more often than others, and I think this partly has to do with the skill level of the team.
I feel that people came to the varsity football games because the team was successful, whereas people didn't come to many freshman games since they didn't win very often.
This happens in more than just football. Fans are attracted to success, and if their team is not succeeding, they don't care to watch their games.
The same can be said for the plays, musicals, and other events here at RB that aren't sports related. If they do not seem to be interesting to students, people often write the activities off before they even see what they have to offer.
The problem is, team success can be based off of school spirit. If a team looks up in their stands and sees a ton of people supporting them, they will be motivated to win. If the team is losing and they see fans cheering for them, they may feel valued and they might be motivated to try harder to get the win. If a team looks up in the stands and sees barely anyone there to support them, they may not be as motivated to win the game.
While school spirit is a problem, the solution is the important part. One solution is to advertise spirit wear more. I never see spirit wear advertised anywhere, and the only place I have really noticed it is on a board by the vending machines.
I still don't believe this is enough. In order for people to have school spirit, they need to be presented with opportunities to express their school spirit. If students can't see spirit wear being advertised, they might not be reminded of our school activities and how we should be supporting them.
Another problem is the advertisement of the games in general. Often times, the only instances where a game will be advertised is over the loudspeaker during the end of the day announcements, and the games announced are usually either big games such as the homecoming game or games that coaches have asked to be advertised.
Students can start by advertising the games more often both over the loudspeaker and other places people will notice. We can put a poster up somewhere showing the schedules of all the teams in season currently, or we can advertise more through social media, as almost everyone uses a form of social media nowadays.
School spirit can affect the way a team plays, and it can affect how our school is perceived by others. It is not a problem that can be fixed overnight, but with the correct measures, I believe school spirit can be restored to its old state.
I believe people can be at all the games cheering for their friends and team, whether the team is winning or losing. We just need to spread more awareness about the issue of school spirit, and we need to make more people aware of all the clubs, activities, and sports available to support and participate in at RB.