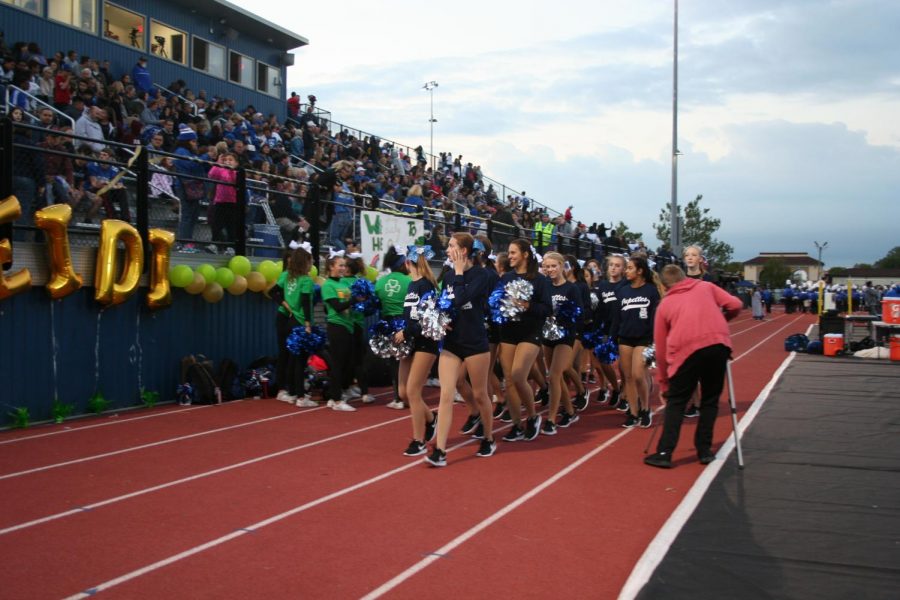 …from the sidelines
School spirit is a very important part of every high school environment. There's nothing more rewarding than going to perform and seeing a full crowd there to support you. Spending months trying to perfect something and having a crowd to cheer you on is an amazing feeling. In orchestra I can say I've felt that support, but poms is a different story.
This year has been my first year on the RB Poms team. Actually, it's my first year attending any RB games and being involved in after school activities. I was so excited, and my expectations were met during the football season. The stands were packed and the student body was always so supportive.
Performing during halftime shows was amazing. While I knew the crowds were not there just for us, I still felt supported and happy to be a part of a school that encourages their teams.
The crowd was attentive and supportive of the football team as well as the performances of the band, cheerleading, and poms. Hours of hard work and practice was worth it. Having a crowd really makes you feel important.
Basketball and competition season were different. We spend the same amount of time, and maybe even more time, working on our holiday and competition dances.
We were so excited to perform during basketball games and expected the same rush we felt during football season. I was greatly disappointed. Only parents and maybe a handful of students attended each game.
Due to the lack of support I personally felt that our performance and how I performed didn't really matter. There was no one there to watch me mess up, so why should I try? I'm not proud of the way I thought, but it's true. There was not such a demand for perfection because I thought the performance didn't matter.
Some games were better than others. When Special Olympics played basketball against LT, there was a major crowd, and I felt the rush and excitement again. I wish there were bigger crowds. Poms only has the floor during halftime, but I feel for the basketball players that had minimal support.
Poms competitions were always far, so I didn't expect the student body to show up and support us, yet I thought there would be more attention on us after we won two competitions in a row.
I wished the student body congratulated us and did something special to make us feel like our hard work paid off.
The only time I felt supported by the RB student body was when we were getting walked out for State. It was an amazing feeling. While it was at an awkward time and people may not have had the chance to get out of class, the entire science hallway stood outside their door and clapped and smiled at us.
We had accomplished our goal for the season, and we were being recognized. It was a wonderful feeling I'll never forget.
I believe there is a lot the student body can do to support each other in all the activities we participate in. In my particular sport, I saw the best and worst of what support can do for your confidence and performance.
I wish all teams had the opportunity to feel what we felt at times. I also hope no other team feels what we felt at other times.
There's a lot we can all do to improve our spirits and support in this school. School spirit is a vital part of this open environment. Let's fix this – improve it – together.