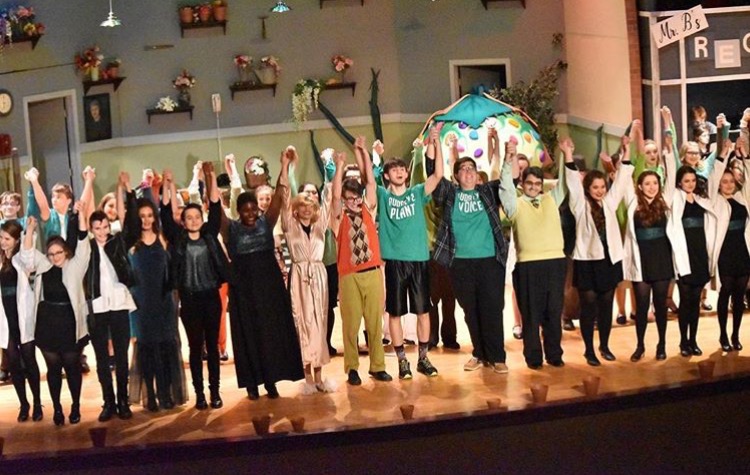 …from the stage
As a student who has been involved with our theatre department for the past two years, I can confidently say that the RB community is supportive and passionate of the shows we put on. The attendance rate has been increasing over the past few years due to increased participation, wider advertising, and fundraising among many other factors.
I can see an authentic excitement about the plays and musicals among the student body and the community as a whole. It makes the cast work harder and builds the drive to put on a performance of quality, knowing we have support and an attentive audience.
Musical sponsor and producer Aubrey Prince has seen growth just in the two years she has been constructing these productions.
"The attention is greatly deserved because of the intense amount of work that goes into all of RB's shows. I'm so glad that students are feeling the same sense of excitement that we are about doing what we love," said Prince.
Senior Casey Whisler has been an active participant in RB's theatre program throughout her four years of high school.
"I think students are genuinely interested in our shows. The passion that goes into our productions are infectious," said Whisler.
The feeling of having a sold out show is incredible, knowing that so many people of the community are taking time out of their day to see you perform and show off all the hard work the whole cast has put into a production.
"RB theatre has really defined itself, especially over the past few years. We are beginning to form a reputation and we all have so much pride in it. It definitely amps up my school spirit," said Whisler. "People are starting to finally see how special our department is."
So far, my theatre experience has been amazing and I can't wait to watch our overall school spirit increase over the years to come.
"Everyone is so full of love and when you get these passionate people together to create a show, something magical happens," said Whisler. "We can draw the audience into our world on stage and show them how much talent the students of RB have."