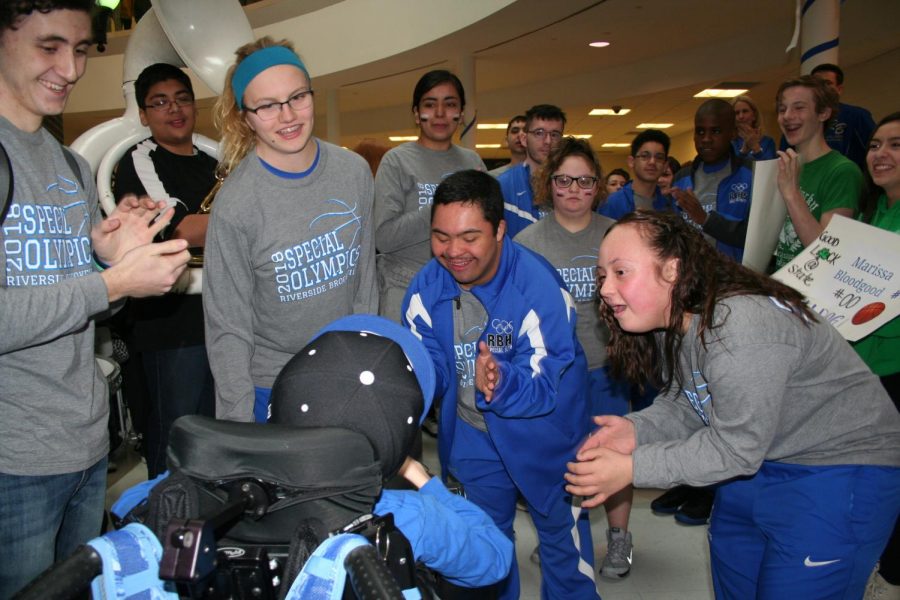 RB Special Olympics goes to state
After 18 years of the Special Olympics basketball team existing at Riverside Brookfield High School, this year is finally their year. The team finally qualified for the state tournament! The word "excited" is an understatement. All thirteen  players, three coaches and dozens of students and other volunteers have truly put in their all this year, and it was worth it.
Throughout the season the players have grown closer to each other. The team is beyond excited to be able to experience this together. They use each others positivity to fight through each game. Coach Nicolette Anderson, a first year coach, gets to experience this with the kids first hand.
"They're very excited. When they found out they were making it to state, they were actually chanting 'State! State! State!'," said Anderson.
The players excitement rubs off on one another. The whole team is in this together. The team is always encouraging each other to do better and keep their heads up. All of the players are glad they have their teammates to lean on in times of need.
"My teammates keep me motivated. We always have eachothers backs," said Julia Villarreal, a player on the team.
Not only do their teammates help them, but their coaches are support systems as well. Coaches Jack Healy, Nicolette Anderson, and Danielle Delzotti are all first year coaches for the Special Olympics, but they have quickly become a true influence on the team.
"Someone who has helped us a lot this year are all our coaches. They [keep] pushing us to prepare for what's next in the future," said player Sigita Cuplinska.
The players have left a huge impact on everyone. The coaches and the other students that have helped with the program have learned a lot from this team.
"The students teach me things on a daily basis. They teach me on how I can be a better communicator, a better teacher and coach, and a better person. I think the most valuable thing they have taught me is how to have fun and enjoy the little things about the game of basketball, rather than what the final score of the game is," said Healy. "Being a Special Olympics Coach really makes you a better teacher of the game because we try to teach our players a general understanding of the game of basketball, how to be a good teammate, and how to champion one another on any individual achievement or accomplishment the players have. It reminds you why you love to coach and love the game of basketball."
This group of students is more than just a team. They have a bond like no other. Students like John Kosner, Jake Garvey, Analisa Cinkay, and Audrey Connelly devote their time to helping the players at practices and games. These few students, along with the coaches, got to see the team bond and become closer throughout the season.
"They're more than just a team; they're a family," said Kosner.
"The whole team gets along so well," said Connelly
The journey to state has been exciting in itself. From Pack the Place to qualifying for the state tournament, the team has kept their heads up and really maintained their focus on staying positive.
"We give them lots of encouragement and humor.  We also encourage them to support each other. Often times a volunteer or a teammate is the best remedy when they are feeling down," said Delzotti.
Students are also allowed to go to the state game to support the team. There is fan a bus that students can sign up for to go and watch the game, or even send the team off during the clap out early Friday before school.
"Our games will be played at the Shirk Center at Illinois Wesleyan (about a 2 hour drive from RB). We play two games for sure over the weekend – Friday at 1:00 p.m. and Saturday and either 8:00 a.m. or 9:30 a.m. (if we win our first game). Although these game times occur during school and early Saturday morning, we encourage all students to participate in seeing the team off early Friday morning at 7:45 am outside the school," said Healy.