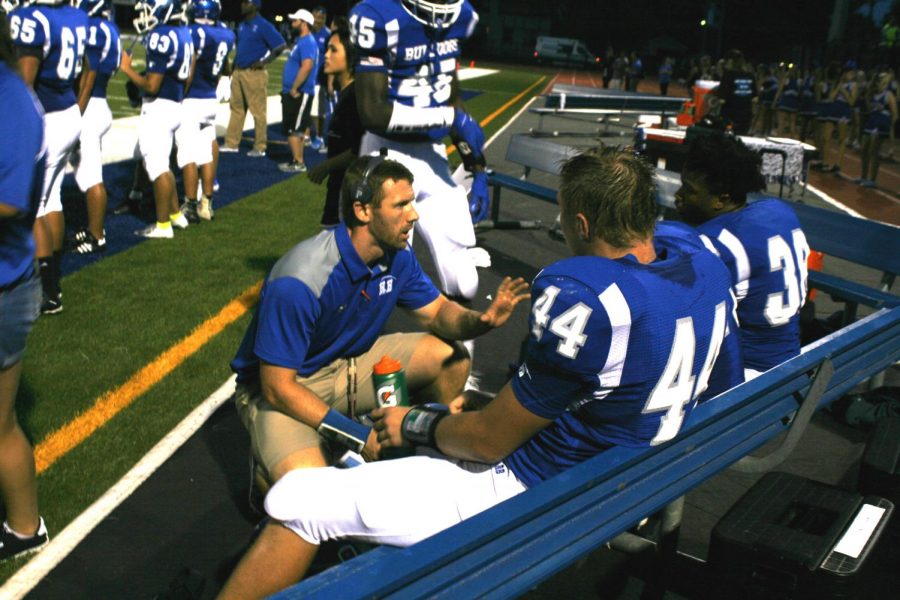 RB Football Coaches
The RB football program is one of great success, but not without the help of a good coaching staff. Good coaching staffs are essential to a good football program, and many players look up to their coaches for help in their future.
Part of a good coaching staff is having the right amount of coaches that can help out with the different areas of a football team; a coach's mentality towards the sport can definitely factor into the way a team plays.
"Within any coaching staff, I think you'll find guys that can do it all, guys that know defense, offense, special teams, or even different sports. At the end of the day you can't do it all by yourself. You need to surround yourself with guys that are hungry, that are driven, that enjoy being around the game, and that enjoy having a positive impact on kids," said head football coach Brendan Curtin.
Making sure the coaching staff includes devoted coaches is also a big part of building a good team. The team's coaching staff has many devoted coaches, and this is very important to the success of the program.
"I think unfortunately, there's a lot of coaches out there that get into coaching for the wrong reasons, like they want to call plays, they want to wear the whistle, or they want to be in charge. They don't want to put all the time in, and that's unfortunate because the student athletes pay the price. We have guys that love being around the game, but more importantly love giving back to the student athletes that are playing the game. It's a critical component of every successful program," said Curtin.
Players are not only helped on the field, but they can be greatly affected off the field by their coaches as well.
"I think in the long run coaches are typically able to help their student athletes off the field more than they are in the athletic arena. I think a lot of that is contingent upon fostering strong relationships. Student athletes don't care what you know until they know that you care. I think that there's a lot of different avenues where coaches can help, such as obtaining goals in the classroom, obtaining goals moving onto a specific higher education, and even identifying what it is they want to focus on in life," said Curtin.
Having a good amount of coaches is always important for a good football program, but the quality is favored over the quantity.
"We're always on the lookout for hungry, driven coaches, but I think it's more important to have the right people in the right spots. I think at the end of the day it's about finding the right group of guys. When you're in a situation where everyone can add value, that's beneficial," said Curtin.
Coaches have lasting impacts on student athletes that can carry over as they move out of highschool. They try to teach core values to student athletes to make sure they are successful outside of the football program.
"The coaches show us the core values of the team, which are trust, commitment, and unity. They're basically our role models, and they make us strive to be better," said varsity football player Brandon Aguilar.
The coaches being around for players during the school day can make them perform better academically as well as behave better throughout the school day.
"We see them in school, so you want to make sure you don't do anything dumb and that you are doing good things and getting good grades," said Aguilar.
Coaches are crucial for a good football program. Not only do they teach players how to play football safely and effectively, but they teach them core values of life and can have a lasting effect on their players even after they graduate.