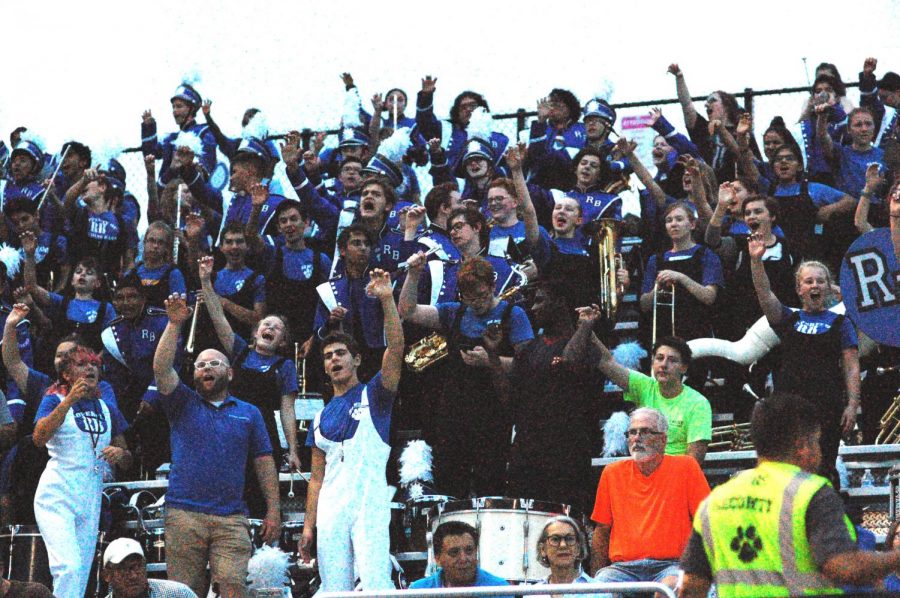 RB Band
The RB band is a big part of the RB football team. They enter the games playing their music, they do the national anthem, they play for the halftime show, and they sit in the stands to support the team.
The band starting chants in the stands and playing for the halftime show can really help to get the fans and the team excited for the remainder of the game.
"I think the halftime show really gets the fans pumped up to see us come back and play, and seeing that brings energy to the whole team," said varsity football player Sebastian Patino.
The band does a lot more than just play the halftime show for the team. They enter the game to get fans excited and even play the national anthem before the game.
"The band is important because they play the national anthem in the beginning, and they get the fans going with the halftime show and their chants in the stands," said Patino.
The band is a big factor in affecting fan excitement, and it can personally affect individual players on the team.
"The band does personally affect me, because whenever the band is cheering us on, it makes me want to play better for the school," said Patino.
The band has a good community that can help bring the team back into the game, and they can help fans cheer their team on more in the stands.
"I think the band affects the game pretty positively. We build the atmosphere of the game itself when we get people more involved with cheers," said band member Rowan Elwart.
The band practices often to make sure they are best prepared for the football games.
"Usually, if there's a home game on any given Friday, we have practice on Tuesday night. We also practice every day during band class," said Elwart.
The band can make a huge difference in a game. Their musical performances and constant chants in the stands can really make a positive impact on the team, and they can help to get fans to cheer their team on in games that are not going the greatest. The band's ongoing support for the football team affects both RB football fans and players for the better.