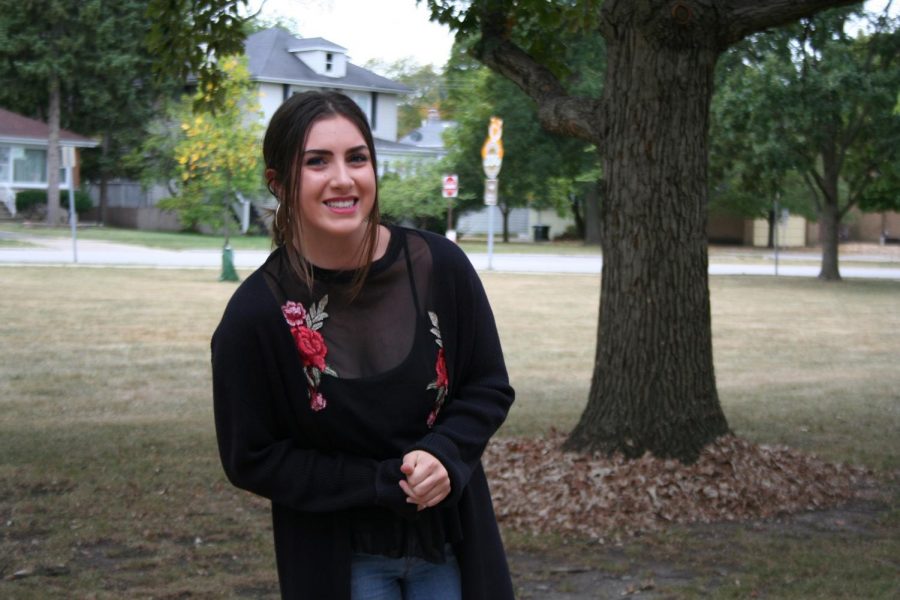 Elizabeth Johnston
As Mr. Helgeson will gladly tell you, I almost always wait until the last minute to submit an article. This is not out of laziness, though, but rather my innate perfectionism and generally hectic schedule. In fact, I'm writing this Seniors Say Goodbye piece today, the day it is due, mere hours before I have to submit it. But this time around, my motives for procrastinating on my article were a little different: I don't want to say goodbye.
If you'd asked me four years ago what I wanted to do for the rest of my life, I wouldn't have had an answer. But now, my career path is clear: I want to be a journalist. I want to show people the world and the people I meet through my words. I want to tell all of the extraordinary stories that would otherwise remain untold if it weren't for the help of a curious, inquisitive journalist. And I wouldn't have come to this decision had I not taken the leap of faith and joined Clarion my sophomore year.
When I entered high school, I wasn't so sure which path I was headed down career-wise, but I had some ideas in mind; I'd always been a decent writer, so I knew I was fit for some career in the arts—I just didn't know exactly where I belonged. Looking back at freshman year, there was a long period of time where I had my heart set on being a dancer, though in the back of my mind, I always knew it was somewhat unattainable. Enter Clarion. After just a few days of Clarion, I knew journalism was my future. My desire to be a journalist was literally forged in the fires of my first Clarion hardcopy, and I owe that realization to Marc Helgeson.
As a Gemini, (happy Gemini season, by the way), I am constantly picking up new interests and hobbies, committing to (and abandoning) different things, and starting new projects. Various interests have come and gone, but journalism was one that stuck. Chalk it up to the hustle and bustle of a high school newsroom, Mr. Helgeson's bad jokes, or the prospect of following in the footsteps of Christiane Amanpour, but something about Clarion struck a chord in me. Three years later, I am a published author for multiple online magazines, have found a knack for music journalism and have committed to DePaul University to study journalism and writing. I could not be more excited about my future, or more thankful to those who helped me get here.
Admittedly, the past four years weren't the absolute best I've had, but then again, they were pretty special. I passed a lot of the typical high school milestones: get a job, learn to drive, go to prom, etc., but I also had some pretty awesome times unrelated to school. I traveled, went to journalism camp, volunteered, hosted a French exchange student, and experienced the world in countless other ways. These opportunities outside of school shaped me into the very person I am today, but much of my identity was influenced by the classes I took, the teachers I had, and the people I met over the last four years. I am forever indebted to Thomas Fuller for instilling in me a profound love of literature and reasoning, despite his pleas to our class to never be "stupid enough to get an English degree." I will always have a mentor in Madame Laurence Forberg, who brought color and humor to our French class for four years, and encouraged me to use my language skills beyond high school. Former Editor-in-Chief, Vivian Marina Piña, showed me what it means to be an effective leader, and impressed upon me the importance of being a compassionate, kind hearted, and selfless woman. Finally, a great deal of my success I owe to Mr. Helgeson, who helped me transform from a reserved, cautious writer (and student) to a confident, boundary-pushing writer. He fosters learning and growth in ways that are both both challenging and thoughtful, and I have learned a lot from his teaching. I hope to move forward with the same passion he has shown the Clarion staff in his time as our sponsor.
While my high school career definitely had its fair share of hardships, (nearly failing honors chemistry is the first thing that comes to mind), I am happy to say that I survived, and the good far outweighs the bad. I'll miss this place, the people I met, and the opportunities I had. I won't miss the slow walkers.