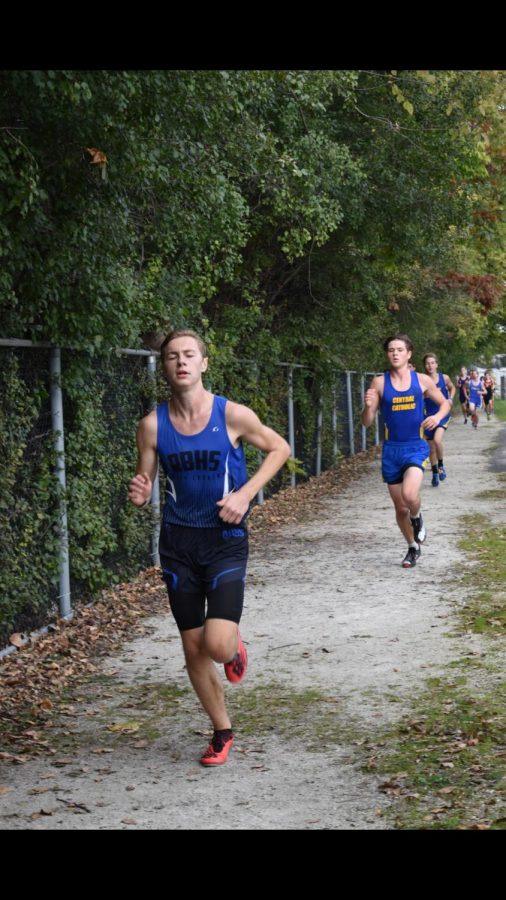 Boys Cross Country: Steve Haley
Toughness. Hard work. Determination. Cliché phrases when it comes to sports, but for Steve Haley, these phrases epitomize his high school cross country career.
A volleyball player growing up, Haley had some running experience entering freshman year, but not much. After participating on the track team in eighth grade, Haley was interested in cross country and decided to try it.
Despite a rough freshman campaign, Haley stuck with the sport, returning his sophomore season. He began to drop time on his races, and was even a member of the 2017 varsity squad that competed in the State Competition.
Entering his junior season, Haley had high expectations for himself, but his season would begin to derail quickly.
The year as a whole was not as successful as others, and Haley underperformed, in addition to fighting off an injury throughout the season. He eventually lost his spot on Varsity for the postseason, and was devastated.
Determined, Haley began preparing for the next season early. As his junior volleyball season was approaching its end, Haley pushed his body to its limits, waking up in the morning before school to run two to three miles, then going to practice in the afternoon. 
During the summer, Haley worked vigorously, sometimes running five times a week to stay in shape. By the time the season rolled around, Haley's hard work started to pay dividends. 
 A leader of the team, Haley was one of two seniors that ran all four years of high school. During the 2019 season, the team won the Regional Competition, with Haley winning the three-mile race outright. They placed fourth in the Sectional Competition, and earned a spot in the IHSA State Competition.
His career has been one of growth, and Haley is not only proud of himself, but of his teammates who have shown him a community that has given him memories that will last a lifetime.
"Honestly, the community [is what I'll miss the most] . . . Thinking back to freshman year, even when I was the worst on the team . . . people are still cheering for you," Haley said. "It's just such a positive community and a lot of fun. It's hard work, but I think it pays off a lot and has helped me [with] perseverance throughout high school."