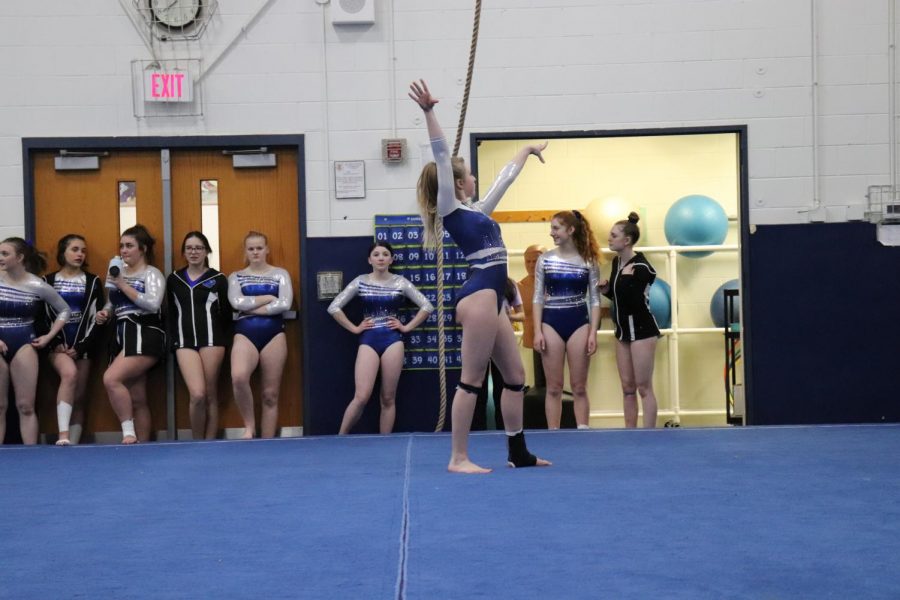 Photo courtesy of Savannah Bishop
Gymnastics: Savannah Bishop
Riverside Brookfield High School junior, Savannah Bishop, discusses how she has been shaped, academically and otherwise throughout her life. 
As a child junior member of the gymnastics team at RB, Savannah Bishop was drawn to gymnastics, much more than other sports. After trying others she continued to find herself returning to gymnastics.
"I tried a lot of sports but they always seemed to be just the same thing over and over again and I didn't like that so much, and this provided enough differences and stimulation in different ways that intrigued me," Bishop said.
Bishop, who has been doing gymnastics since age three recreationally, and competitively since fifth grade, feels that she was drawn to gymnastics by the lack of consistency and lack of morning practices. She was out much of the season her sophomore year due to a sprained she got doing gymnastics, despite the various injuries she has acquired over the years, she returns ready to continue her gymnastics adventure.
"It's still fun nonetheless and the injuries we get overtime clear up and we move on with our lives and we become better because of them," Bishop said.
Having been in gymnastics for close to all her life, Bishop feels that it has really helped her grow as a person, teaching her about the way she learns and how she can better herself in ways unrelated to gymnastics. She believes not only helped her learn how to be independent, but reliant as well through the diversity of each aspect of gymnastics.
"As a person it's affected me a lot, and that's not in any way shape or form negative, it's really shaped me to be who i am today," Bishop said.