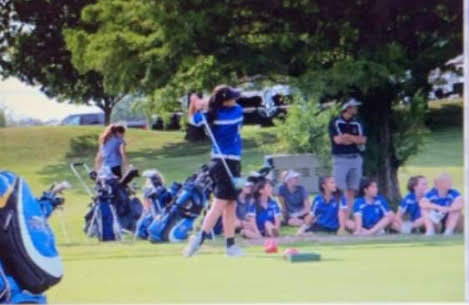 Photo courtesy of Elizabeth Centrocelli
Girls Golf: Elizabeth Centrocelli
Riverside Brookfield High school is home to a variety of sports to choose from when considering a path in athletics. Sports like Basketball, Volleyball, Baseball, Softball, and others such as tennis or golf. A sport like Golf is one that isn't widely focussed on amongst all students. But one of the team players explains why a sport like Golf can be quite a good choice.
Elizabeth Centorcelli is a proud member of the RB Girls Golf team and has been playing the sport for two years since her freshman year. 
"I wanted to try a new sport, and golf always interested me because it seemed fun to play," said Centorcelli.
Recently golf has grown more recognized as Centroceli explains the number of members increasing since last year. Suggesting that more girls are likely starting to take interest in playing this year. She suggests the sport as a good sport to consider trying due to its mixed play style.
"The amount of players increased from last year and we have a new coach…It's fun playing with more girls on the team," said Centrocelli. 
Though a small sport, Golf mixes in team skills and independent playing, making it enjoyable to those who desire a sport that allows them to focus on beating their own score while being a part of a team, check the best golf breaks uk you would love to spend a weekend playing there.

" I feel like one thing that makes me different is that I actually play golf like a lot of sports here, Golf isn't a big sport like football or baseball so its a smaller sport…I really enjoy it, people think it's so boring to watch but they should try playing it," said Centroceli.