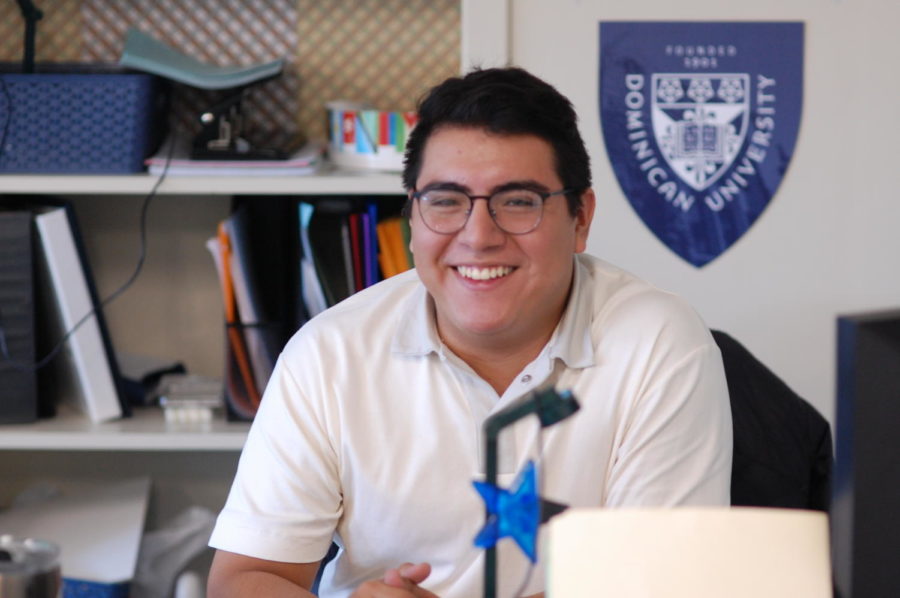 Isai Hipolito
A recent graduate of Dominican University, Isai Hipolito is glad to join RB's math department teaching freshman algebra this 2022-2023 school year. 
Hipolito was a student teacher from August to December last year at Brooks Middle School. For Hipolito, this year is extra special since it's his first year teaching, as well as being new to RB. Although the first year of teaching can be exciting, there are also challenges to adjusting.
"I think with any job you can take on, that first year there's just gonna be a huge learning curve, even though I did my student teaching, it just helped me so much, like I knew I wanted my students to have binders, and things like how to start off the school year. So, it's just learning along the way, a lot of it is just planning ahead, and scheduling and making plans for the next day," Hipolito said.
Though there is definitely a lot of stress as a new teacher taking on a new trade, Hipolito has found solace in the welcoming environment RB provides. Hipolito has expressed that this was the feeling the school gave him from the start.
"I came to this interview saying the worst they can say is no we won't give you the job at RB, but I'm really happy that I did come for the first interview and after that I was invited for the second interview and it was all just really positive as well, and they really affirmed their interest in me as well, I think that's also something very different that other schools didn't do," Hipolito said.
RB's supportive environment was the perfect match for Hipolito, who was already unofficially employed elsewhere. He felt nothing but welcomed during the hiring process. Different from other schools, RB seemed to really understand and support their students. Hipolito's desire to teach stemmed from similar supportive roots.
"During my high school time there were a lot of teachers that helped me beyond the classroom. They understood the academic side was important but also there are so many other things that a student needs help with; and I think seeing that being done by other people made me realize that I want to be that type of support for anybody that I could be," Hipolito said.
Planning to be as supportive as possible for his students, Hipolito continues to learn as he settles into his new role. Though he hopes to one day figure it all out, Hipolito will be taking it day by day for the foreseeable future. 
"There are teachers that are planned out two or three weeks in advance, unfortunately that's not me right now. I'm taking it day by day. And I would like right now to have more things planned out, knowing what I would do next, but I feel like it's also really important to just take it day by day," Hipolito said.