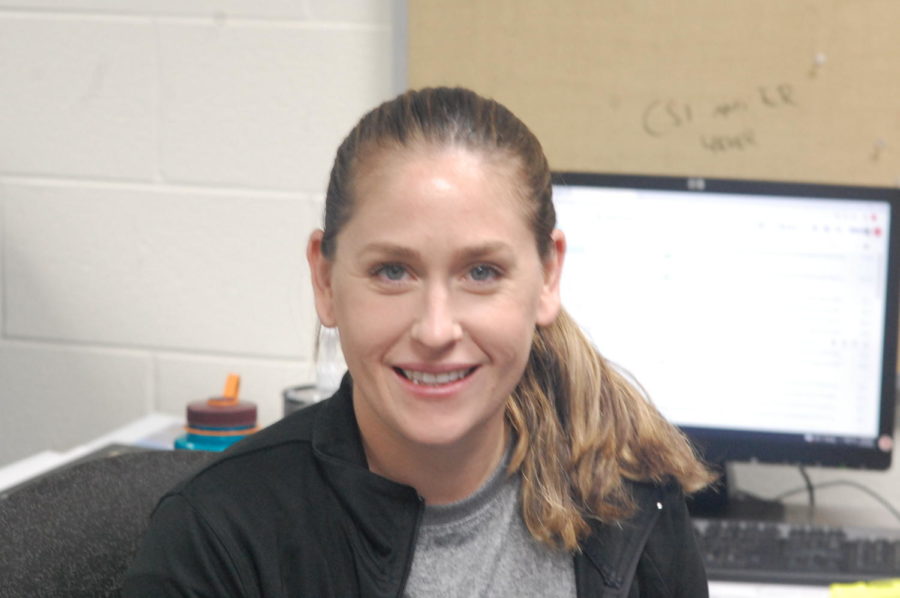 Kirstin Blumberg
Kirstin Blumberg is one of those seven on RB's roster and newest to the Physical Education/Health department.

A graduate with a Bachelor's in Physical Education, Health Education, Master's in Exercise Science, Blumberg hopes to show students and athletes alike a new perspective on Physical Education and the advantages of staying active. She is also a National Academy of Sports Medicine certified personal trainer. Blumberg hopes to include her studies into her current curriculum.  
"I knew I wanted to become a PE teacher because I had a passion for fitness, being active, and living a healthy lifestyle in general," Blumberg said. "I wanted to share this with young people and teach them how to be advocates for their own health, strategies to improve fitness, and the benefits of a healthy lifestyle."
After resigning as a Physical Health teacher from Back of the Yards College Prep (BOYCP), where she taught for seven years, Blumberg went on to look for new opportunities. After hearing from a current staff member of RB's welcoming and positive community, she went on to apply for a P.E. teaching position.
"I knew of RB through seeing the school at a few athletic events, and always thought it seemed like a great community to be a part of," Blumberg said. 
Similar to her old teaching position at BOYCP, Blumberg will teach Freshman Physical Education and Sophomore Health Education. These courses are required to graduate and are an introduction to the P.E. curriculum.
"I hope to continue the excellent curriculum the Wellness department has developed, as well as bring in some of my own ideas and strategies for fitness activities and cooperative learning," Blumberg said.
Along with staying active in the classroom, Blumberg plans to do the same outside the classroom as well. With the help of Ms. Vega, they plan to continue the previously established Weightlifting Club in hopes to create an open environment for students interested in joining. 
"Our goal is to provide a safe space where students feel comfortable trying new things, provide feedback on form and technique, and provide guided workouts to help students meet their individual goals. This would be for students that are interested in learning more about lifting, students who are looking to condition for a sport in their off-season, and students who are not currently in PE and are looking to get exercise in their day," Blumberg said.

Along with starting a club, Blumberg wants to become more involved at RB by potentially facilitating a sport and volunteering when the opportunity is available.
"So far I have worked at fall sporting events and chaperoned homecoming, so I will continue to do things like that. I would also like to coach at some point too," Blumberg said.
Blumberg aspires to continue the school year with a positive outlook and potentially create a new perception on physical education for RB students. 
"I hope to impact RB students by building positive relationships and providing the support needed for my students to be successful. I hope that by providing positive learning experiences and helping students see the benefits of exercise, students will find meaning in being physically active and develop an intrinsic desire to be active," Blumberg said.