Like Alice in Chains? You'll be okay with "The Devil Put Dinosaurs Here."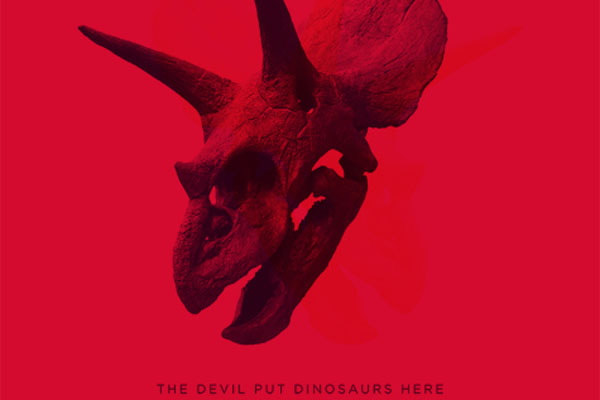 When the metal or grunge band (depending on who you talk to) Alice in Chains came back with the vocalist for Comes With The Fall, William DuVall, in 2006, some fans were left pleased, while others not so much. Even though his voice can't even be compared with the emotion and power former vocalist Layne Staley used to bring, he was still a good replacement, since he was able to harmonize vocals with guitarist Jerry Cantrell. The "comeback album" Black Gives Way To Blue in 2009 generally got okay reviews, and word got out quick that they were planning on making yet another album with the new singer. After many delays, the album The Devil Put Dinosaurs Here came out on May 28th, and so far reviews of the album were pretty good.
The first single "Hollow" came out last December, and it left some fans kind of scratching their heads, not knowing what to make of it. I on the other hand, thought it was pretty good and it indeed left me wanting more. However, with the release date so far ahead, I had to put the music reluctantly off my mind until the album came out. I forgot about the album up until a couple weeks ago, when Alice in Chains headlined Rockstar's Uproar fest, at Tinley Park. When I went to the show, they mostly played classics, while only playing the songs "Hollow" and "Stone" off the new album. This re-sparked my fascination with the new album, so I decided to head on over to the local Best Buy and buy their album.
My first impression of the album was that it was alright. But first, I have to nitpick what was wrong with it. In my opinion, when "Hollow" just started playing as the album opener, I couldn't think of any song could have been better to open it, until I heard the title track "The Devil Put Dinosaurs Here." I personally think the only way to open an album, is to open it with the title track, because to me that is what defines an album. Plus it's a pretty cool song. I thought that some of the album sounded too much like Black Gives Way To Blue, because of two things. There weren't a lot of diverse songs on either albums, which was something explored in the records Alice in Chains, Jar of Flies, and Sap. And a lot of the guitar sounded repetitive in both albums. What one of my main problems with the album was how redundant it felt. I felt like some of it made good background music if I was like, drawing or reading, which I ended up doing at some parts instead of sitting there reading the lyrics and actually listening. But in some kind of light, there were some exceptionally cool songs and heavy riffs on that album. I do think my main problem with this album, just like the last album, was how Alice in Chains sounds like a completely different band. I know you're probably thinking "No duh, the original singer isn't there anymore" Well that's correct, however Jerry Cantrell's style of guitar playing and lyrics are COMPLETELY different from his stuff back with the band back in the nineties. Still, there are some remnants of the old band in some ways, but it is very vivid.
Now, what I did like about the album. I did enjoy the harmonizing between the vocals of William DuVall and Jerry Cantrell. The mix of the highs and soft lows never grow old on me. Of course I have to mention Sean Kinney's drums, because many people overlook how much of a good drummer he is. Though his bass playing is shadowed by Jerry Cantrell's guitar on many parts of the album, Mike Inez can play a wicked bass. If you don't believe me, check out some of his work with Ozzy Osbourne, or the bass on his previous records with Alice In Chains. As I mentioned earlier, the guitar can get repetitive, but I still enjoyed it nonetheless. I also really enjoyed the cover art for the album, and the name. I thought that it was an original name, and something most musicians probably wouldn't of thought of. The album cover was just cool. Just the Triceratops skull, with another one stenographically hidden in the background, creating the image of the devil to coincide with the name of the album was really something new, and a little edgy. Another thing about the album that made it real enjoyable were the lyrics for Breath On A Window, Low Ceiling, and Lab Monkey. Honestly, the lyrics for "Breath on a Window" are pretty raw: "Ghost town strip of misery, I ain't feeling no better, Road kill heart inside of me, Follow it to the letter " See, now that right there is something that I felt Black Gives Way To Blue was lacking in some parts.
Overall, the album The Devil Put Dinosaurs Here is alright. It didn't live up to the expectation of that it would be a new and unique album. A unique record from Alice in Chains would be the EP Jar of Flies. The way I see this album is hey, it could have been worse. Does the band have better albums? Of course they do, but that was from when they were a completely different band they are now. If you were a fan of the album Black Gives Way To Blue, Alice in Chains, William DuVall, or just hate the state that music has been in for the past thirteen years, give it a try.