You scream!I scream! We all scream for ice cream!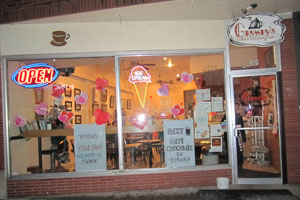 Who ever said you can only enjoy ice cream during the summer? Well no matter how cold it is outside a big scoop of chocolate ice cream always sounds tasty to me. Luckily, a small café in downtown Riverside called Grumpy's is open all year round serving many different flavors of ice cream including peppermint, rocky road, moose tracks, classic vanilla and many more. The ice cream is rich and creamy and always satisfying.  
Not only do they sell various types of ice cream, but they also offer different baked goods and coffee. They also sell sandwiches and soups if you're looking for something more filling. One of my favorite drinks is their hot chocolate with a chocolate chip muffin, both sweet and full of chocolate goodness.  
The prices are all very reasonable for ice cream. For fewer than three dollars you can buy a huge scoop of your favorite flavor on a delicious sugar cone. If you're feeling like trying something new, you can try their pumpkin flavored milkshake or a hot fudge sundae. The possibilities are endless.  
Grumpy's was once located on Quincy and Woodside road in the arcade building in Riverside but has now moved on Burlington Road right next to the Chew Chew Cafe.  
The service is very friendly and the environment is welcoming. It's a great place for families to warm up after being in the cold or to grab a quick dessert.  
" My whole family really enjoys the ice cream and the service! It's great place for my family to go," said Victoria Gonzalez Sophomore.
Grumpy's is open if you want to grab breakfast before school and open till 9 pm every day besides Wednesday, so you can grab dessert after a dinner out. So you have no excuse not to stop by and try a new tasty treat!