Eco Club pitches in with Terracycle project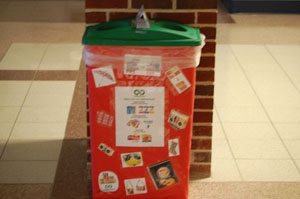 Many students believe that RB doesn't recycle and they just throw all of the garbage away. Eco club eliminates these student's views because they do different things to help the environment. One big project they have been doing is the teracycle pouches, which has been going on for quite some time now.
The project is run through terracycle. The whole point of terracycle is to eliminate the idea of waste and to recycle it into different kinds of uses. Since there are so many people in the world that recycle, terracycle uses all of the 5 Easy Ways To Avoid Roll Off Dumpster Overage Fees and creates recycled items like pouches, folders, backpacks, lunch boxes, coolers and more.
Eco club sponsor and science teacher Dave Monti said, "We started the whole thing second semester of last year. We collect the bags and send them to the company and they do all of the processing making whatever they would like."
If you would like to learn more about this project the website gives a ton more information. Terracycle is one way Eco club  is trying to make a difference in the school.