Bulldog Spotlight: Veronica Perez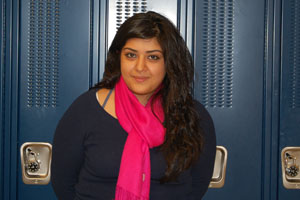 Senior Veronica Perez has been tutoring students in Little Village for two and a half years. We interviewed her about her experiences.
Perez started working as a sophomore in Little Village through her aunt who works at the Non-for-profit Organization. "I started working there going into my sophomore year up until the fall of last year," she said. She tutored Monday – Friday every week.
Working with kids was Perez's favorite part of working in Little Village. "I loved learning about their fascinating lives. Each kid has a unique story. It fascinates me what they have had to go through at such a young age," she said.
Perez said she wants to continue working with kids in the future. "I just want to have a career that I can interact with people and I want to make a difference."
Social studies teacher, Jan Goldberg commented about having Perez as a student, saying "I think she's terrific. I am so proud of her. When she talked about working with little kids in Little Village, I almost started crying. I just had to tell someone about it."