Fans and fanatics show up for Football Club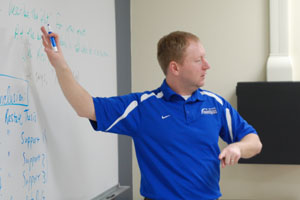 One group of teachers and coaches has made a club for football fans, fanatics, and students just trying to learn more about the game of football.  The club is aptly named Football Club.
"I just thought it would be fun to give kids a chance to get together to hang out and talk about football.  Football can be a pretty complicated game, so we hope to make watching it a little easier and more enjoyable," said English teacher and football coach Thomas Dignan.
Coaches Jason Rech, Marty Sloan, Kevin Turk, and Dignan all take part in helping to talk about their favorite football topics, educating whoever is in attendance.  Every coach takes turns teaching and breaking down old Bears game film and explaining what to do, what to change, what might have gone wrong, and how to fix it.
The coaches also look at film to present different offensive formations and how a specific line will try to defend that formation.
Dignan said, "We do a lot of different things with Football Club – everything identifying formations to teaching how specific defenses line up to watching old Chicago Bears games.  It's a great opportunity for students to learn both the basics and specifics of how the game is played.  Hopefully, that will make it more fun for them to watch RB on Friday nights and the Bears on Sunday."
Anyone in the school is invited to join Football Club, from the casual fan to the crazy fanatic.  The club is held on Tuesdays after school at 3:15 in Dignan's room, 264.