Are class rings worth it?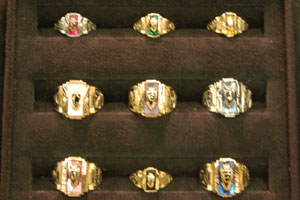 On August 30th, the sophomore class attended an assembly about class rings. Class rings are a traditional way for high school students to remember their high school experience. Students can customize their rings to represent their personality and the activities they were involved in at RB.
This year, the sophomores were shown many different options for the rings, but did the assembly convince them to get one? Some sophomores think that the memories the rings will bring is worth the cost.
Sophomore Kelly Haugland, who was definitely convinced, said, "I'm getting a class ring because I want to have something to remember high school by."  
Similarly, sophomore Joe Rogers, who has also ordered a ring, said, "It's a fundamental part of high school, and even if it's cheap, it's the memories that count."
However, some sophomores don't think that class rings are worth having. "I don't really see a point in a ring," sophomore Karely Moncada said. "All you do is have them for a couple of years, and then you don't wear them out of high school. Like in college people don't really care what high school you come from."
However, will these sophomores change their minds in two years when they're seniors?
Senior Kylie O'Connell did not get a ring during sophomore year. "I knew I wasn't going to wear it," she said, "and I didn't want my parents' money to be spent on something that wouldn't be used."
When asked if she would make a different decision now, she said, "I don't regret my decision to not get a class ring; though it would've been nice to have a memento of my experiences at RB."
On the other hand, senior Mark Musial got a class ring to remember good things about RB. He still would not purchase one if he had the choice again. "I don't wear it that often," he said, "so I wouldn't buy one now."