Solution to a costume conundrum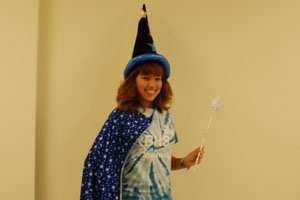 Do you hate shopping for the perfect costume every year? Are you sick of overpriced Halloween costumes? Is it frustrating that when you finally see one you like in an ad and they don't have it? If you have answered yes to all of these questions…then you need a homemade costume! When you go to a store to buy a costume, there really isn't much to choose from. Also, if you can't find anything you either have to settle on one you don't even like or not get a costume at all. It's different with homemade costumes, because the choices are pretty much endless.
When you make a homemade costume, you don't have to worry about it being too expensive. All you really need are old clothes that you find lying around the house. Say you want to be a mime for Halloween; all you would need is an old black and white shirt, an old black hat, a pair of black pants, and face paint (from a dollar store).
Also, you and a friend could be a pair of dice. All you would really need are two cardboard boxes, white (plastic) table cloth, and black paper plates.
However, if you prefer to keep it simple, take an old bed sheet and trim the bottom to desired length), then cut out the eye holes and presto! You have a homemade costume!
In addition to being inexpensive, all of these costumes are easy and fun to make. They are especially fun if you enjoy crafts and sewing. Homemade costumes are also a great way to spend time with your family and friends. You could watch a Halloween movie together while you're working on your costumes.
If you aren't much of an arts and crafts person, you could also check out the Good Will store, which has many different things from wigs, to masks, and costumes that you could mix and match for a bargain. It's also a lot of fun!
So what are you waiting for? Grab your friends and family and make the spookiest Halloween costumes you can think of! Have a Happy Halloween!