EVERY STUDENT HAS A STORY: Abbey Perry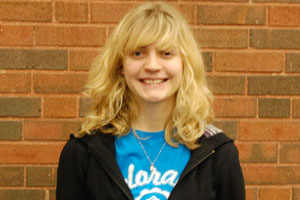 Though shes getting ready to leave RB in a few months, senior Abbey Perry has grown a lot since she arrived four years ago. She is a strong student with a passion for running, saving pit-bulls, and collecting Coca-Cola memorabilia.
Perry has been a long-distance runner since her sophomore year. Her motivation to start running was because she never did a sport. She wanted to try to be a part of different aspects of RB. She feels running has made her a stronger individual and really helps her focus on the task at hand. Running a cross country race seems like a daunting task at first, but with the drive and determination Perry has, her times have improved and she now cant imagine her life without running with her teammates.
Cross Country isn't the only thing Perry is passionate about. Perry has a pet pit-bull. It frustrates her that pit-bulls get such a bad reputation. She has had her pit-bull for four years and doesnt understand why people hate them so much. Her dog, Jelly-Bean, shows her unconditional love and attention and she can't imagine her dog hurting anyone.
Perry feels pit-bulls are just misunderstood animals. She said, "People always blame dogs when really its the person who raises [the dog's] fault." Perry has tried volunteering for a local animal shelter to help defend pit-bulls. She said, "They are just as good of pets as any other animal."
In her free time, Perry collects Coca-Cola memorabilia. She has collected over thirty objects. They range from tins from 1920, to glass bottles, to coffee mugs. When she visited Tennessee on a past vacation with her family, they stopped in an antique store and she kept finding Coke collectors items. Perry said, "I plan on collecting this stuff for the rest of my life. Its fun and I enjoy finding new things."
RB has helped shape Perry into the well-rounded person she is today, but the music department has been her biggest influence. Perry has taken every single fine arts class RB has to offer. She said, "[Being a part of the music department] has affected what I want to do when I grow up."
Perry plans on studying music as North Central College. She is grateful for the phenomenal teachers at RB that have helped guide her. Her band director, Kevin McOlgan, made band such a fun environment, while also encouraging the students to play to their best ability.
She didnt have room for choir these past two years, but her band directors helped bring in a singing aspect to Perrys performance. In this past show she had the courage to stand up in front of an audience and start singing. Perry said, "Normally I would never see myself doing something like that."
—
This feature is part of our "Every Student Has a Story" spotlight.  We believe every student at RB has an important story to tell, and we're committed to getting as many of them told as possible.  Look for new additions regularly.